How to choose the best Wi-Fi replacement for your Apple AirPort routers
Amid uncertainty about Apple's plans for its Wi-Fi routers, what other options work best for Mac, iPhone, and iPad owners?
If you still rely on some of the above features, notably printer and drive sharing, you don't have to give them up, though you might have to reconfigure a device or sort out the best way to make changes. And unless you plan to dump all your working Apple base stations, you can always keep one or more running in a network for AirPlay audio streaming or printer/drive support if you still need it.
Drop-in replacement
Your router choices can come down to whether you want to sweep everything out of the house and start fresh, or you're looking to replace or extend an existing network. The best cheap routers have effectively the same features and networking philosophy as the Apple base stations. The most expensive routers are sold as sets of two or usually more, which connect automatically among each other using mesh networking, a much more powerful and workable alternative to the WDS on which Apple relies.
This is where your budget has to kept in mind: it's easy to drop several hundred dollars on a great, new, multi-router Wi-Fi solution that fills every nook and cranny in a house and never needs to be poked. But you can also spend as little as $100 to $200 for two to four routers that could work nearly or completely as well, but require a longer learning curve to configure, plus careful work in placing to get coverage just right.
If you're looking to just replace a single base station or extend an existing network, your best bet is to find a high-quality AirPort-like router, and grin and bear the configuration part. Several simultaneous dual-band 802.11ac routers can fit the bill and most cost half of the AirPort Extreme.
For a house or apartment that's a single floor and doesn't have building materials that block Wi-Fi, you may be able to replace a network of two or three Apple routers with a single new unit.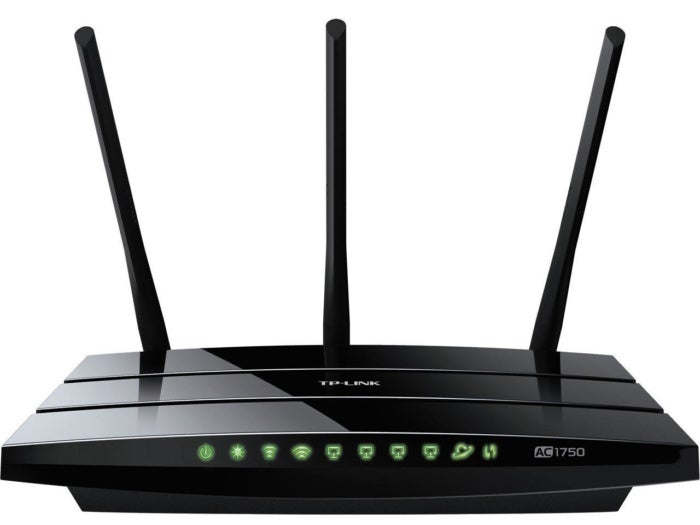 The C7 is plenty powerful and less than $100 street price.
The TP-Link Archer C7 (version 2 or 3) remains the replacement option that's easiest to recommend. At under $90 (street price), it duplicates all of an Extreme's features and has many others. I purchased one over a year ago to replace a dead AirPort Extreme, and despite the amount of details in its administrative interface, it's required less tweaking and fewer reboots than any AirPort router I've owned. It has many options I've never touched, including settings to throttle bandwidth to a guest network and limit access to times of day and days of the week. (Just don't buy a C7 v1, and return it if you receive this outdated model.)
Previous Page 1 2 3 4 5 6 Next Page