How to choose the best Wi-Fi replacement for your Apple AirPort routers
Amid uncertainty about Apple's plans for its Wi-Fi routers, what other options work best for Mac, iPhone, and iPad owners?
Remote configuration and drive access. Back to My Mac (BtMM) was once a great feature, especially for people with Macs in multiple locations. However, it's not reliable and not robust, where other remote access tools (like TeamViewer) work with aplomb. It's rare you'd need to change your base station's configuration outside of its LAN, and remote-drive access can be accomplished in a lot of other ways, including with many standalone NAS devices. Worst of all, an update to the AirPort firmware several months ago introduced a problem with BtMM in base stations. The feature requires an iCloud account to function, and I and many users had our base stations work in a semi-useless mode until we removed the iCloud account from the base station's configuration. From some users' accounts, the problem remains.
Network punchthrough. NAT-PMP has the long expansion to Network Address Translation Port Mapping Protocol. While Apple developed it (in 2005), it wasn't proprietary: it was submitted as a standard. However, it was barely picked up by any other party. Instead, the computer industry as a whole went for UPnP (Universal Plug and Play).
AirPort Utility. Apple has long had a leg up by offering a friendly face for Wi-Fi router configuration, especially compared with the Web-based administrative frontends for most other devices. Even as Apple added an iOS version of AirPort Utility, it dropped updates for the Windows flavor, locking users into configuring only from Apple hardware. More recently, many router makers (discussed below) have built new Wi-Fi systems around even simpler-to-use apps.
Automatic firmware updates. This remains a big divide between Apple's base stations and the direct routing competition. Very few routers notify you when firmware updates appear, and I can't find any that even let you sign up for a mailing list specific to your router. Apple provides alerts in macOS, and it's a one-click operation to download and install. More expensive multi-device "mesh" systems discussed later automatically push new software to routers or keep most of the intelligence in the cloud.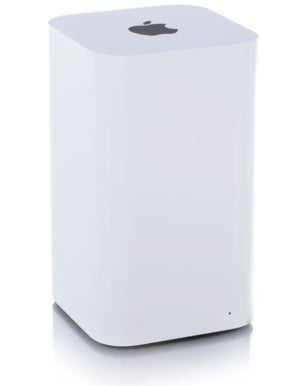 The Time Capsule is a better idea in theory than in execution.
Time Capsule. When Apple first released the Time Capsule base station, it seemed like a nifty portmanteau, packing two great features into one box at an affordable price. Over time, Apple boosted capacity substantially. But I haven't recommended the Time Capsule for years, because the integral drive can't be removed or managed. If Time Machine backup goes awry in a Time Capsule, your only option is to wipe the entire drive; if the Time Capsule dies, you have to crack open a case not intended to be open, extract the drive, and put it in another enclosure. While I don't recommend Time Machine by itself, either, using a drive attached to a Mac for networked backups gives you much better alternatives. Or you might already be using a cloud-based backup service.
Previous Page 1 2 3 4 5 6 Next Page