How to choose the best Wi-Fi replacement for your Apple AirPort routers
Amid uncertainty about Apple's plans for its Wi-Fi routers, what other options work best for Mac, iPhone, and iPad owners?
Other features found in Apple's base stations are easy to find in other routers:
DHCP assignment, offering a permanent local network address to a device on the network
Separate network names for 2.4GHz and 5GHz Wi-Fi networks
Guest networking (access to a segregated network for guests)
Timed and device-based access control
Each of Apple's advantages has slipped away over the years:
AirPlay audio passthrough. This remains a unique feature of the AirPort Express, which features an S/PDIF-compatible (Sony/Philips Digital Interface Format) analog/digital combination 3.5mm port. Plug in a regular analog cable, and you get analog out. Use a Mini TOSlink cable, and it carries digital information over an optical link to an S/PDIF port in a receiver. Apple TV models used to include a similar port, which was removed in the fourth-generation model. (I wrote an article about extracting the audio from the newest Apple TV in Sept. 2015, and reviewed a high-end HDMI audio splitter/passthrough device about a year ago.) Some receivers and other devices include AirPlay, and you can use Rogue Amoeba's Airfoil to create AirPlay and similar destinations. (See "The 10 must-have utilities for macOS Sierra," for more on Airfoil.)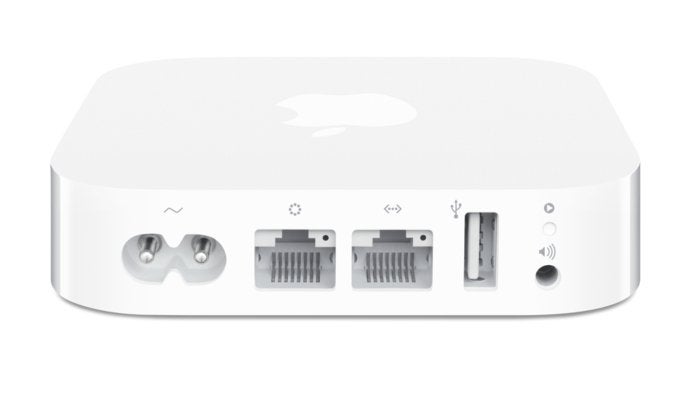 The AirPort Extreme has an audio jack for sending music from a Mac or iOS device to a set of speakers using the AirPlay protocol.
Printer networking. Even quite inexpensive printers now include Wi-Fi networking, allowing a completely cable-free connection. And most Wi-Fi routers include USB-based printer support that's compatible with macOS (although not always with iOS).
Network-attached storage. Apple's attached drive support used to be a big deal when OS X was oriented around AFP, and it was difficult to create networked fileservers except Mac OS X Server or personal filesharing in regular OS X. Apple shifted heavily to SMB for network filesharing, which makes it easier to work with Windows-compatible servers. Standalone NAS drives cam be purchased at all sorts of price points. Cloud-based network access reduces the need for network servers. And streaming and on-demand services have replaced some of the need for fileservers that mostly held video. If you still need a router-attached hard drive, most AirPort competitors offer USB-shared drives via SMB.
Base station to base station networking. A decade ago, I used to tout this feature as a great way to work around obstructions like walls and ceilings, and while the WDS that Apple used to make it work was an industry standard, only Apple seemed to have mastered it. But it became less and less reliable over time, even as data rates went up by leaps and bounds. I stopped recommending wireless base station interconnection about four or five years ago, and suggest gigabit ethernet, which can required running cable, or powerline networking, which works through unmodified electrical outlets.
Previous Page 1 2 3 4 5 6 Next Page