How Netgear's Orbi plans to eradicate Wi-Fi dead zones
It involves two units, three radios, and $400.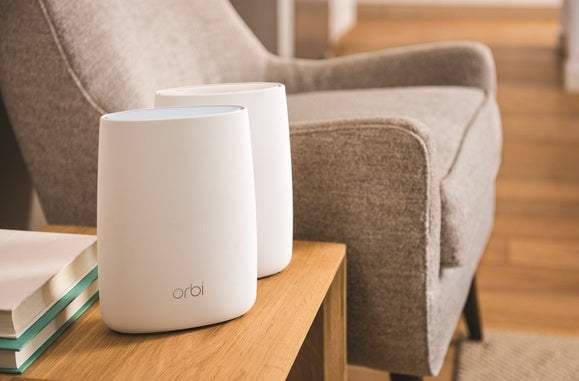 Wi-Fi dead zones suck, and worse, most current tools to eliminate them suck, too. Setting up range extenders is always a headache, and the signal they output is weaker than the Wi-Fi beamed directly from your router. Converting to a powerline adapter setup costs money and requires you to litter your house with wall warts. Wiring ethernet all over your house? C'mon now. That's ugly and it doesn't help deliver data to mobile devices.
Netgear's new $400 Orbi router aims to fix all that, and some of the other nasty headaches associated with Wi-Fi networks.
Pardon me; Orbi isn't just a router, it's a "Wi-Fi system." Like Eero and Luma before it, Netgear's solution relies on using multiple base stations to blanket up to 4,000 square feet with Wi-Fi. But while Eero and Luma rely on numerous tiny, easily hidden units to create a mesh network, Orbi's duo of devices takes a page from Google's OnHub with a larger, yet attractive design. And that extra bulk hides Orbi's secret sauce.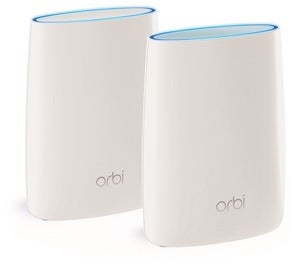 Netgear's router and satellite unit pack a trio of radio antennas. Two deliver the usual 2.4GHz and 5GHz Wi-Fi channels. The third is devoted solely to communication between the Orbi router and its range extender. Traditional range extenders basically act as yet another device connecting to your router, which is part of the reason why the Wi-Fi signal they retransmit is weaker than the one coming directly to your router. By adding a dedicated connection between the two devices, Netgear claims that devices connecting to the extender will still receive full, unfettered Internet speeds of up to 3Gbps using 802.11ac AC3000 Wi-Fi, according to VentureBeat.
While the main Orbi router connects directly to your modem, the second unit is designed to be placed centrally in your home—no doubt the reason Netgear opted for the clean aesthetic. The radio connecting the two devices operates on the shorter-reaching 5GHz channel, so they can't be on complete opposite ends of the house, but an indicator light on the top of the Orbi units lets you know if they're in range of each other. If it's blue, you're good to go.
That's easy-peasy, and it seems indicative of the entire setup process. The two devices are configured to work together out of the box. All you have to do is plug them in and configure both using a simple browser-based installation program, according to Chip Chick—no complicated pairing process required. Once you're up and running, Orbi intelligently optimizes your network traffic, though you can tinker with advanced settings in the browser app if you'd like.