Google OnHub Wi-Fi router review: It's designed to coddle novices and annoy power users
On the upside, it's a very good performer. On the downside, it makes all networking decisions for you.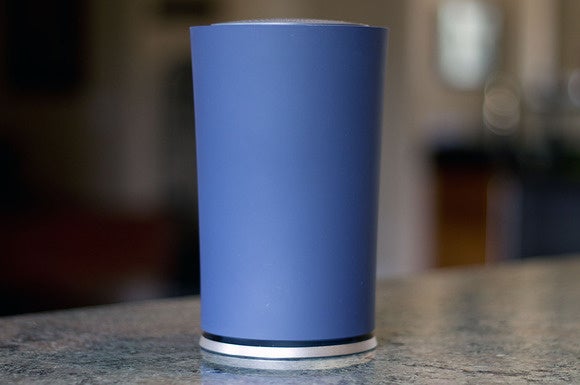 You'll either love or hate the new OnHub Wi-Fi router that Google and TP-Link have cooked up. If you're of the "I just want it to work" mindset, you'll dig it. If you're an enthusiast who likes to bend hardware to your will, tweaking knobs and being aware of everything that's going on under the hood, it will drive you nuts.
The OnHub is a dual-band router co-designed by Google and TP-Link (manufactured by the latter) that operates networks on both the 2.4GHz (802.11b/g/n) and 5GHz (802.11n/a/ac) frequency bands simultaneously. But both networks use the same SSID, and the router decides for you which network each client should use. As I discovered during benchmarking, those assignments can change without notice if the router decides it can provide better service, but it's not always right.
The only way you can set up the OnHub is with a smartphone or tablet (Android or iOS) and Google's app. Punch in the router's IP address on a web browser, the way an enthusiast would configure a router, and you'll see a polite message telling you to open the Google On app if you want to change any of its settings. The app will helpfully guide you through the process of connecting the router to your broadband gateway. The speaker at the top of the router is supposed to emit a tone that automatically pairs your Android phone to the router. That didn't work during my installation, so I had to type in a code that was printed on the bottom of the router (as I would have done if I'd set it up with an iPhone).
The setup process is very simple, because there's not all that much for you to do. You don't need an admin password—the phone pairing establishes that level of security—and you can't finish the installation without setting a Wi-Fi password (the same one is used for both its 2.4- and 5GHz networks). You don't have to write the password down, because you can look it up on your phone.
The OnHub will even recognize when you're installing it behind the crappy modem/router combo your ISP gave you and offer to operate in bridge mode (but it won't advise you to turn off that router's Wi-Fi radio—if it has one—and OnHub will end up competing with the router for bandwidth if you don't).
Apart from that, the Google On app is excellent, popping up with useful information at appropriate times, and offering oodles of context-sensitive help. It will also run tests on your network and your Internet connection for you.
Rather than let the app put the OnHub into bridge mode, I configured my ISP's modem/router to operate in bridge mode, so that the OnHub would handle all routing duties and I'd get a more accurate picture of its performance. (That's also how I have the modem configured when it's connected to my usual router.)