Google enters the Wi-Fi router market with the very different OnHub
What does the search-engine giant know about routers? We're about to find out.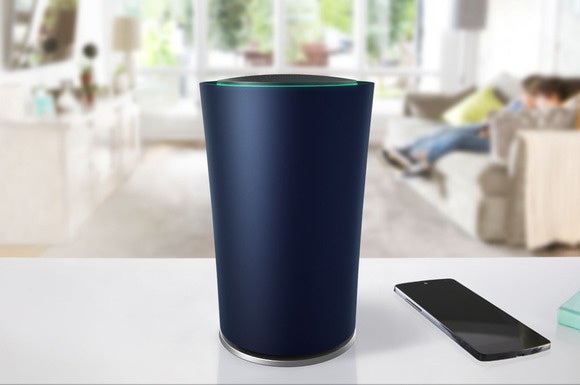 Just when you thought the announcements from Google HQ couldn't get any weirder (Alphabet, anyone?), Google Product Manager Trond Wuellner takes to the Google Blog to announce the company's entry into the Wi-Fi router market with the OnHub.
But the OnHub isn't just any router. For starters, it supports the ZigBee connected-home protocol, aka IEEE 802.15.4, and the Weave programming language developed by Google's Nest Labs for Internet of Things applications. The OnHub also supports Bluetooth 4.0, including Bluetooth Smart Ready.
And in an era where reports of router vulnerabilities are becoming as common as weather updates, the OnHub is outfitted with a Trusted Platform Module—a component more typically found on computers marketed to the enterprise. Finally, the OnHub also has a speaker with a 3-amp onboard amplifier and a dimmable LED light ring, but Google hasn't revealed much about what these components do.
More typically, the OnHub is a dual-band router capable of operating independent networks on the 2.4- and 5GHz networks, supporting up to the 802.11ac Wi-Fi protocol. The spec sheet published today indicates that the router will be capable of sending and receiving three spatial streams (3x3), supported by six antennas for each frequency band (that's 12 in all), contained inside a cylindrical enclosure. A thirteenth antenna is used to evaluate network congestion.
"During setup," Wuellner writes in his blog post, "OnHub searches the airwaves and selects the best channel for the fastest connection. A unique antenna design and smart software keep working in the background, automatically adjusting OnHub to avoid interference and keep your network at peak performance." Wuellner says the OnHub is designed to be attractive enough to set up out in the open, which is one reason why the antennas are inside the enclosure. But one design choice that could leave home-networking enthusiasts frowning is the decision to provide just one, 1-gigabit LAN port and one USB 3.0 port.
Why this matters: Routers are an essential component in the modern home: We rely on them for everything from news and information to everyday entertainment. These devices are doubly important to the modern smart home, where they serve as the gateway to our home security, lighting control, HVAC systems, and more.
Router manufacturers have made great strides when it comes to building faster and more powerful routers, but they're still struggling to make these essential devices easy to install and maintain. We won't know how much progress Google—and its manufacturing partner TP-Link—has made on that front until we can lay our hands on a unit for testing (Google says it will announce a second partner, Asus, later this year).