5 Wi-Fi analyzer and survey apps for Android
Products can include Wi-Fi stumblers, heatmaps, active surveying, more
On the Chart of Signal Strength screen, you can view a signal graph over time for the AP you're connected to. You can adjust the amount of time shown. Though very simple, we also liked how it had a static line indicating the typical border line of roaming at -80 dBm.
Even if you require a better surveying tool, this app still might be worth adding to your toolbox for its network map view and ability to save network lists.
WiTuners Mobile
WiTuners Mobile is WiTuner's main on-site surveying tool; we evaluated version 5.0.5. The company offers two flavors of WiTuners Mobile: A free version that limits you to saving just five survey data collection points, and a $599 version that has no survey data limits and includes lifetime support.
In addition to passive surveying, the app can also perform active surveys using iPerf or ping. Furthermore, the paid version can be set to do continuous data collection, which lets you watch the charts remotely in real-time with WiTuners Planner.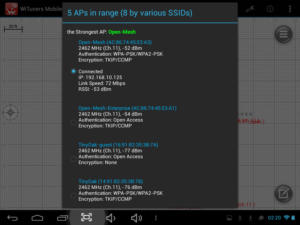 After opening the app, you're shown right away the details for the nearby APs and can optionally connect to the desired AP within the app. This seems useful, but we were caught off guard at first because most surveying tools don't pop-up with a network list right away. After that you're taken to the main survey screen with a row of menu icons up top. A quick tip then pops up describing how to access the main system menu (by long-tapping the screen). That's a good thing, because otherwise that would never have occurred to us.
The pop-up tip also says you can touch and drag APs to their locations. This is because the app automatically places the APs onto the blank workspace. But since we hadn't even added a floor plan map yet, this feature felt a bit messy, like the app was getting ahead of itself. It's a neat feature, but it would be nice if it were an on-demand function you could optionally utilize later.
After poking around the app for a couple minutes, we found what seemed like a lot of neat features, but it was still unclear how to start a project. Turns out there is no defined project creation process or even any way to save projects. This confused us in the beginning, especially because the survey data disappears after exiting the app. However, WiTuners Mobile does automatically back up the survey data, and you can restore the data in order to resume a survey. You can also sync the data to the cloud and use it in WiTuners' other products, or import floor plans from the cloud, but it would still be nice to have a typical project-based file system in the app.
Previous Page 1 2 3 4 5 6 7 8 Next Page