5 Wi-Fi analyzer and survey apps for Android
Products can include Wi-Fi stumblers, heatmaps, active surveying, more
In the Analyzer settings, we liked that you can set a scan interval or disable scanning, which can be useful if you just need a one-time reading or manual readings. Additionally, you can give APs an alias name to help you track them or choose not to show them. These simple settings can help on the networks you continually monitor.
This app wasn't created with full-scale surveys of large networks in mind, so we'd only use for smaller networks or portions of a larger network.
Wi-Fi Visualizer
The free Wi-Fi Visualizer app from ITO Akihiro provides a very simple heatmap surveying functionality along with a couple other Wi-Fi tools. We evaluated version 0.0.8 of the app.
After opening Wi-Fi Visualizer, you see the Scan screen, which displays details of any current Wi-Fi connection. Alongside the IP details and basic wireless statuses, it also shows the channel width and center channel -- both welcome additions. You can also page through the tabs to see a nice channel and signal graph of the 2.4GHz band and each subset of the 5GHz band, but it would have been nice to have at least all the 5GHz band on one page.
There's also a tab for the SSID List on the Scan screen. You can't filter the list, and sorting is limited to just SSID and BSSID. However, you can save a snapshot of the SSID list and the graphs to come back and view later. This is a convenient feature not all other free apps offer.
On the Heatmap screen, you can name and create a new project. Once you add the floor plan, a simple quick tap logs the data point. It saves both the signal and link speed of the connection. Unfortunately, unlike the other survey apps, it only logs the stats for the AP you're currently connected to. This can be a problem if you want to see whether signals from one AP are interfering with another's on the heatmap; it's just not possible. There's also no export feature in the app, but you can do a manual screenshot or come back later to view the saved heatmap.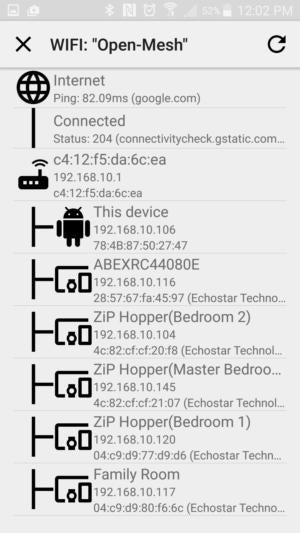 On the Network Map screen, you can view a tree of the devices detected on the network. It's basically a simple IP scanner. It shows the IP and MAC addresses and network names of the infrastructure components, like the router, in addition to the client devices. This is a nice bonus feature not seen in most other Wi-Fi survey apps. You can even click on a device to open the web browser to its IP address in case there's some sort of web-based GUI.
Previous Page 1 2 3 4 5 6 7 8 Next Page