5 Wi-Fi analyzer and survey apps for Android
Products can include Wi-Fi stumblers, heatmaps, active surveying, more
We wouldn't suggest using this app for surveying larger business-level networks, but it could be useful in home or small office environments, and its extra testing tools might be interesting.
WiFi Analyzer and Surveyor
The WiFi Analyzer and Surveyor app from ManageEngine offers very basic surveying functionality. There is no premium edition offered, just the free app. We evaluated version 2.10.
When you open the app, you're given the option to go the Analyzer or Surveyor page. On the Surveyor page, you can easily add a floor plan from your device's storage or Dropbox, or add its example plan to just play around. Though it doesn't allow you to take a photo of a printed map directly within the app like the other apps reviewed, you can take a photo with your device and then select that image within the app.
When surveying, you long-tap your location instead of short-tapping like in the other apps. Initially you see tips pop-up to describe the process, which we thought useful. When you end the survey, you're shown the report. However, as with iBwave you can't select a single AP to see its particular coverage; you can only select an SSID.
You can switch between the heatmap and signal strength views in the survey report, which look very similar. The signal strength view shows a defined dot of each location you tapped with the corresponding color based upon the signal level, whereas the other view shows the color in a larger area with the heatmap effect. However, the heatmap effect is only slightly radiated beyond the size of the dots you see in the other view, so you just basically see blurred dots where you long-tapped (captured the signal) on the map. Just about all other survey tools use prediction to fill those gaps and create more of a full heatmap without having to walk every square-foot of a building.
On the Analyzer page of the app you'll find four different views. The Channel view shows a typical channel usage and signal bar graph along with a list of the AP details. The Interference and Signal views provide a similar graph but are designed to give you just those details. We like that you can select the APs to show on these views based upon the signal level (best, good, weak or all), but it would be nice to view the graphs for both bands at once instead of having to flip between them. Then the Wi-Fi Details view shows you a nice text-based list of the APs, but it lacks the particular security method used.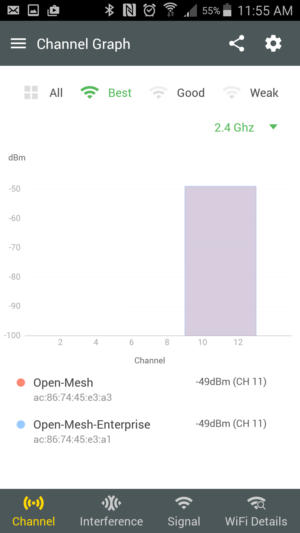 Previous Page 1 2 3 4 5 6 7 8 Next Page