5 Wi-Fi analyzer and survey apps for Android
Products can include Wi-Fi stumblers, heatmaps, active surveying, more
We evaluated version 2.2 of iMapper WiFi app. When creating a new project, you can select a floor plan image or take a photo of a printed floor plan. The process is straightforward, but you can only have one floor plan image per project, which means surveying a multi-floor network requires you to set up multiple projects. Additionally, the odd scaling process (you have to adjust a circle around the image) wasn't apparent until we discovered how to do it from Fullsunning's website. It would have been much better if there were some sort of tip in the app to describe the process.
The default survey view displays the signal levels of the currently connected AP. You can also choose from five other views. The Channel Analysis view can show the recommended channel with the lowest signals, channel with the strongest signal and channel rating of the currently connected AP. The Network Name (SSID) and AP Device (MAC) views allow you to filter the heatmap to the signals of either the SSID or AP you choose, whereas some of the other tools only allow you to select one. The Link Quality view shows you a heatmap of the level of data rates, from bad to good.
All the heatmap views showed useful details, but it would be nice if a quick description were given in the app to clarify the data that's shown. Unfortunately, there isn't any way to export or save the heatmaps or collected data beyond saving screen shots. Furthermore, it seemed the app had some bug where the floor plan map would occasionally move, so the survey paths and data points weren't aligned anymore with the locations where they were taken until we restarted the app.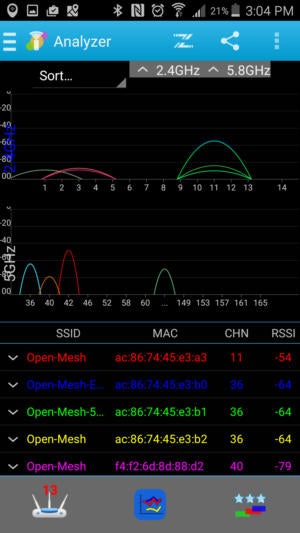 From the main menu, you can bring up the Analyzer page. It shows a typical channel usage graph and AP details for one or both bands at the same time, a signal-over-time graph and a signal meter for the currently connected AP, and a channel analysis chart. All these views look great and are useful. It can even give you the noise and signal-to-noise ratio if you connect an external analyzer.
From the main menu, you can also access the Tester page. This gives you some tools to test Wi-Fi association times, ping times, HTTP response times and throughput via FTP upload or download. You can run these individually or create an automated test plan to run multiple tests.
On the top of the app, you'll also find a shortcut to the sniffer tool. It shows you the connection details of your currently connected AP. Among the basic details you can find elsewhere, it also includes the WLAN MAC address of both the Android device you're using and the AP you're connected to. If you have an external analyzer connected, it can also display the raw data packets seen over Wi-Fi.
Previous Page 1 2 3 4 5 6 7 8 Next Page