5 Wi-Fi analyzer and survey apps for Android
Products can include Wi-Fi stumblers, heatmaps, active surveying, more
Once you've imported or created a floor plan image, you must set the dimensions to ensure the map is to scale. You can optionally add defined zones for RF density and capacity if you plan to use its prediction functionalities, including simulating the coverage of access points without performing an actual survey and collecting data. At first it wasn't quite clear how to apply these zones on the floor plan. The process turned out to be pretty intuitive, but it would have been nice if there were a little in-app help or tips along the way.
You can perform passive or active surveying with the iBwave app. You can conveniently utilize the iBwave Viewer PC app as the server for the active surveying. You can optionally add pushpins to the floor plans and save multiple photos, videos, audio, or text notes to that location. You can also use the mark-up feature to draw free-hand on the floor plan.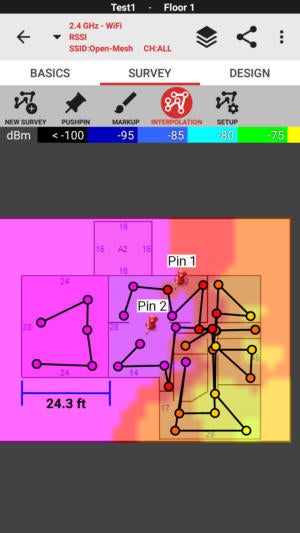 When viewing the heatmaps, you can display them for the signal, throughput (if an active survey was performed), signal-to-noise ratio (using your defined noise level), overlap zones, co-channel interface and capacity. You can select to display the heatmap for the desired band, SSID or channel. However, it doesn't allow you to easily select a particular AP to see just its heatmaps, which is unfortunate if you want to view individual coverages. Nevertheless, you can easily export the survey data file or upload to iBwave's cloud service to view the data and generate reports in their other products, including the iBwave Viewer PC app.
The iBwave Wi-Fi Mobile app also comes with a stumbler feature called the Scan Tool. You can perform auto and manual scans for both bands or individual ones. In addition to the usual passive scanning, you can do active throughput tests, which also can test against the server built into the iBwave Viewer PC app. For passive scanning you can input advanced settings, such as the RSSI offset, receiver sensitivity and manually defined noise level for each band. However, the Scan Tool doesn't show the security status of the APs, which would be nice for auditing reasons.
The iBwave app is worth buying for the surveying needs of large or enterprise networks. Though some features could be improved, it seems like a solid app and its integration into the iBwave solutions seems convenient.
iMapper WiFi Pro
iMapper WiFi is developed by Fullsunning Inc. It offers a free edition with limited functionality, such as being able to only save two projects, and a full edition that costs only $7.06 from the Google Play store. In addition to the typical heatmap survey functionality, it does provide several other Wi-Fi testing tools. But as you shall see, you get what you pay for.
Previous Page 1 2 3 4 5 6 7 8 Next Page