5 Wi-Fi analyzer and survey apps for Android
Products can include Wi-Fi stumblers, heatmaps, active surveying, more
We found a solid app and GUI when evaluating the WiFi Analyzer and Surveyor from ManageEngine. However, the map-based surveying capabilities are quite limited, making it appropriate for only the smallest and simplest Wi-Fi networks. We did find the analyzer features to be pretty useful, however, with intuitive and attractive graphs. And the product is completely free.
Wi-Fi Visualizer is the simplest surveying app we reviewed. Unfortunately, it only captures the signal levels of the AP you're currently connected to. For a freebie app, we did think the network map was a nice bonus and were impressed with the ability to save the SSID list and graphs on the stumbler side. This could be a free useful tool to utilize in addition to others.
The WiTuners Mobile app is also targeted towards the enterprise market. It provides some neat features, such as continuous surveying to remotely monitor the Wi-Fi, rogue AP detection and tracking, and support for a spectrum analyzer. However, the app GUI and project processes could certainly be fleshed out to be more user-friendly and intuitive, and it is the only one of the five that only works on Android tablets. It would be great if the app were phone-friendly.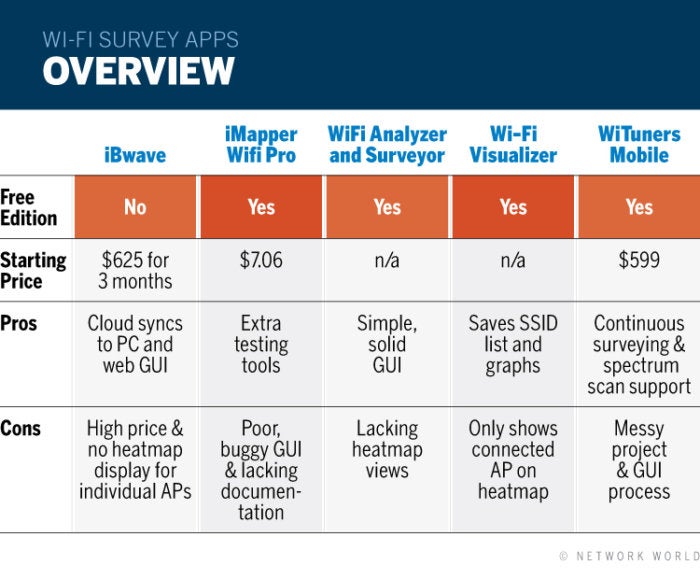 iBwave Wi-Fi Mobile
The iBwave Wi-Fi Mobile app is basically a lite version of the company's Windows PC edition. Like its other solutions, this app syncs its data to the cloud, giving you a convenient way to share projects and move between the mobile and PC editions of the software. Furthermore, the free iBwave Viewer lets your customers and other third-parties view the survey data and generate their own reports.
Pricing for the iBwave Wi-Fi Mobile app starts at $625 for a 3-month subscription, $1,250 for a 12-month subscription, or $2,680 for a perpetual license. This pricing is certainly the highest of the Android-based Wi-Fi surveying apps we've ever reviewed. However, if you only need it for a short period of time, iBwave can be worth the money.
We evaluated version 8.1.1.134 of the iBwave Wi-Fi Mobile app. When you start a new project, you can select a floor plan picture, take a photo of a printed drawing, or create one on the device. Selecting a picture and taking a photo is straightforward, but the in-app drawing tools lacks pre-set shapes and objects. We wouldn't think many users would manually create a floor plan in the app, but if they did, having to draw it using a freehand pen would make it really difficult to create a usable floor plan.
Previous Page 1 2 3 4 5 6 7 8 Next Page