5 Wi-Fi analyzer and survey apps for Android
Products can include Wi-Fi stumblers, heatmaps, active surveying, more
Wi-Fi networks have many variables and points of frustration. Different types of walls, materials and objects can impact the Wi-Fi signal in varying ways. Visualizing how the signals move about the area is difficult without the right tools. A simple Wi-Fi stumbler is great for quickly checking signal levels, but a map-based surveying tool helps you visualize the coverage, interference and performance much more easily. They allow you to load your floor plan map, walk the building to take measurements and then give you heatmaps of the signals and other data.
Most Windows-based Wi-Fi surveying tools offer more features and functionality than Android-based tools provide, such as detecting noise levels and providing more heatmap visualizations. However, if you don't require all the bells and whistles, using an app on an Android-based smartphone or tablet can lighten your load. (And in case you're wondering why we're not discussing iOS apps, it's because Apple won't allow developers access to the Wi-Fi data, thus there can't be any legit Wi-Fi surveying apps without jailbreaking the device.)
In this review we look at five mobile survey apps: iBwave Wi-Fi Mobile, iMapper WiFi Pro, WiFi Analyzer and Surveyor from ManageEngine, Wi-Fi Visualizer from ITO Akihiro, and WiTuners Mobile.They range from free/cheap options for surveying small office networks to those with an enterprise price tag designed to handle larger networks.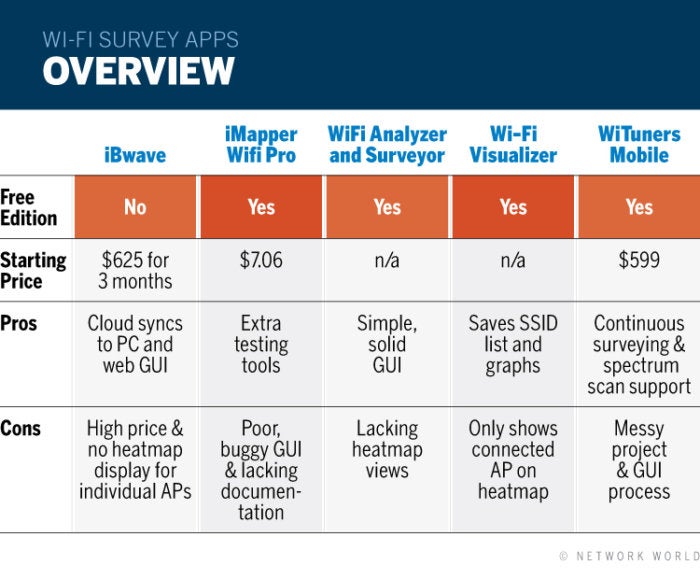 We found pros and cons in all the apps we reviewed. Paying the hefty enterprise-level price does get you many more features, such as spectrum scanning and cloud syncing; if you're surveying larger networks they're definitely the way to go. But as you'll see, they aren't perfect either. The free and cheap apps can provide basic surveying functionality for small and simple networks, plus other Wi-Fi tools that can be useful.
Targeted at the enterprise market, the iBwave Wi-Fi Mobile app carries the highest price tag we've seen for an Android-based survey app. We like its intuitive app design and GUI, as well as its cloud-syncing ability and compatible PC viewer app, but were disappointed it couldn't display survey heatmaps for individual APs.
The iMapper WiFi app has some unique features and tools, especially the automated test plans, but it's certainly not a polished product. There seem to be some bugs, the GUI is flakey and its documentation and support are almost non-existent. This app might be okay to use for simple surveys in homes and small businesses, but we don't recommend it for professional use in larger surveys.