CIOs cautiously embrace Windows 10
Major OS upgrades are never easy, but according to CIOs and IT executives, the move to Windows 10 is the smoothest Microsoft OS transition in years, even if most of them are taking their time with the deployments.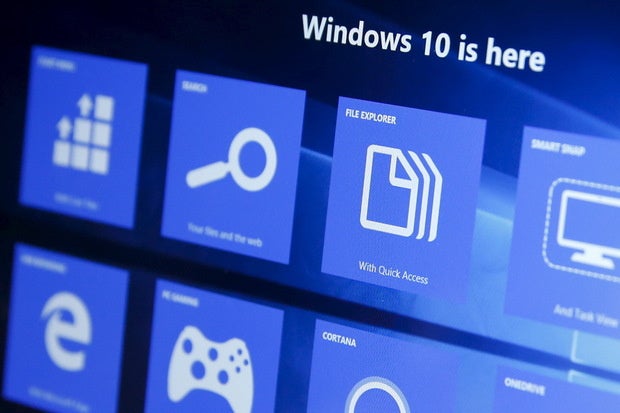 A computer screen shows features of the Windows 10 OS at the Microsoft store at Roosevelt Field in Garden City, New York July 29, 2015. Credit: REUTERS/Shannon Stapleton
Seven months before Microsoft first released Windows 10 last summer, Neeraj Rajpal, CIO of legal giant Morrison & Foerster, said the pain of upgrading roughly 2,000 users to a new OS outweighed the potential benefits to the company. "I need a compelling reason, (and right now) I don't see it," he told CIO.com in January.
Today, more than 200 million devices run Windows 10, including 22 million in business and education, according to Microsoft. Rajpal has also since changed his mind and expects to eventually deploy the new OS across his organization, thanks to a number of notable improvements, including better power management, Windows search, tablet mode, the Cortana voice assistant, and Office 2016 integration. "There are a lot of things [that are better in Windows 10,]" he says.
Windows 10: To upgrade or not to upgrade?
It's difficult to accurately gauge the temperature of the entire business community, but interviews with a sample of senior IT executives indicate that unlike the troubled Windows 8 upgrade cycle, the shift to Windows 10 in large organizations is much less painful and often without a lot of drama. "We're surprised at how well the upgrades have gone," says Stanley Morency, interim CIO of the Kent School District in the state of Washington, which includes 28,000 students and more than 26,500 Windows devices, roughly 1,000 of which currently run Windows 10. Morency expects to finish the massive upgrade by September.
Among the leading reasons to upgrade to Windows 10, according to the IT executives we interviewed, are enhanced security, the return of the Start menu and the need to replace aging hardware.
There are pain points, of course. Jacky Wright, Microsoft's vice president of strategic enterprise services, concedes that the applications ecosystem "has been a bit slow," as software developers and manufacturers struggle to finish work on drivers and ensure app compatibility with the OS.
For Rajpal, this lack of proven app compatibility with Windows 10 is a major concern, and he says he won't deploy the OS across Morrison & Foerster until he is sure the firm's critical applications will run smoothly. However, the CIO also emphasized that he is sold on Windows 10 and will upgrade his workforce as soon as developers deliver what the company needs, likely by next year.
Though Microsoft's Edge browser has garnered generally positive reviews, its lack of support for extensions is another common user complaint, according to Wright. Microsoft said in October that Edge would support browser extensions at some point this year.