Why PCs, not smartphones, are best for social media sharing
In a world dominated by social media we must choose the best way to consume it. A vast majority would look to their mobile devices, but the true platform is the PC.
Even worse: Text entry. It's hard enough to compose a meaningful update that's worth sharing with the world. But when you have to cope with insanely small virtual keyboards and the frustrations of auto-correction, your tweets, Facebook posts, and other social media updates become time-consuming chores. Simply struggling to meet Twitter's character limit is enough to make you say, "Screw it. I'll save this thought until I can reach my PC."
Desktop browser interfaces, on the other hand, give us much more than a generous window for viewing ten-plus updates in a row, and much more than proper text entry driven by a full-scale, physical keyboard. They also expose the full set of tools, features and settings that social media services offer. Everything is available front and center, so you don't have to "page hop" to reach, say, your profile or security settings.
Be social, be productive
Social media services provide loud vocal cords for businesses, but trying to orchestrate content promotion on your smartphone is madness. To do it effectively, you need quick, comfortable access to tools for scheduling, account management, and analytics, and these are only available on the desktop, often through desktop client software.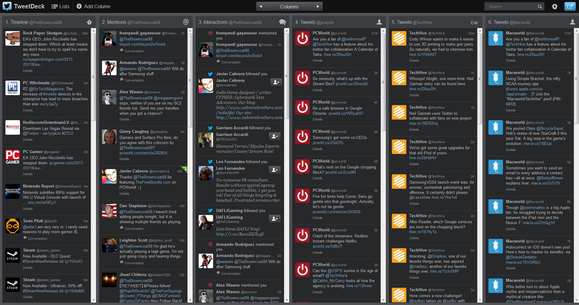 Tools like TweetDeck, which lets you manage multiple Twitter feeds in real time, are exclusive to the PC.

Smartphones simply don't have the power or the screen real estate to handle these hefty tasks and to properly run a business's social media presence. Desktop clients like Tweetdeck help manage multiple Twitter streams in nice, organized columns, while SocialOomph, a browser-based service, lets you schedule updates, track keywords, and manage accounts for a variety of social media services. And let's not forget that Facebook's built-in post-scheduling feature isn't exposed in its own mobile apps.
Bottom line: Whether you use social media at work, or you're simply a hard-core power user, to truly master your social media universe, you'll need a PC.
Sharing is caring
Because sharing information--and funny cat videos--is the main function of any social network, it needs to be easy to do. And, thankfully, copying links, embedding videos, and uploading photos is all quick and easy with our handy mice and keyboards. The various sharing functions available in mobile operating systems and individual apps are supposed to make it easier to share content, but it's never as easy as sharing from the desktop.


The "Share" buttons found on the desktop version of YouTube make it much easier to share content via social media.
Let's say you want to share a YouTube video on your Facebook feed. On the desktop, you simply copy the video's URL, drop it into your Facebook page, and post. On your iPhone, however, you must tap the video, tap the general sharing icon, tap the Share button that's spawned, tap the Facebook option, and then, finally, configure your Facebook account in the Settings menu. Tweeting that YouTube video wouldn't require the heinous configuration step, but it still requires way too many intermediary actions just to share.