What's up with Google Fiber?
Who has it, who wants it, who gets it?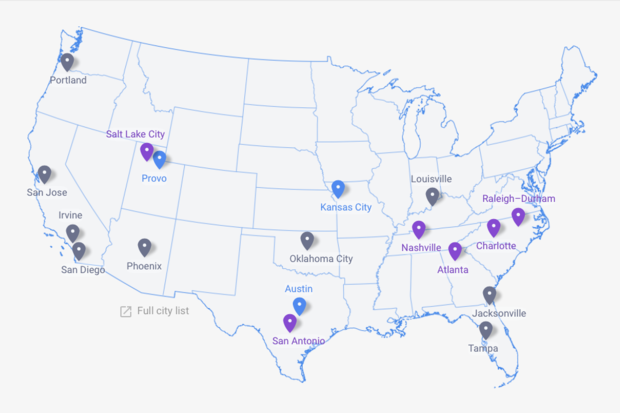 Credit: Google
Let's face it: when it comes to Internet connectivity, there's no such thing as "too fast." And optical fiber is the only choice for connectivity that exceed 1,000 Mbps, aka Gigabit Internet. Optical fiber provides higher bandwidths – download speeds 40 times faster and upload speeds more than 300 times faster than garden variety broadband – and spans much longer distances than electrical cabling. And some companies, such as Bell Labs, Cisco and Comcast are claiming that their new "fiber optic" services (when eventually installed) will be 10 times faster than Google.
In the meantime, Google Fiber is the hottest ticket in town, and it's popping up in municipalities all over America. It started in Kansas City during the summer of 2012 -- followed by Austin, Texas and Provo, Utah in 2014. And on the official Google Fiber team blog, director of Fiber Expansion Jill Szuchmacher noted that Google is in the process of designing the San Antonio network, and construction has started in Atlanta, Nashville, Charlotte and Raleigh-Durham, N.C., and Salt Lake City.
The remaining metro areas of Phoenix, Portland, Ore., and San Jose are making great progress and, last month, negotiations began with Louisville, Ky., San Diego and Irvine, Calif. And Google recently invited Oklahoma City, Okla., and Tampa and Jacksonville, Fla. to join the ever expanding Google Fiber family.
Google Fiber customers
Local residents in these areas are thrilled to finally get super, high-speed Internet (and cable TV) at such a reasonable price. But Google Fiber for businesses is where the real spotlight landed when companies such as SightDeck, who moved from California to the "Silicon Prairie" to build next-generation video-conferencing on the Gigabit expressway; and BIME Analytics, a French cloud computing company, who wanted its North American headquarters located in the center of supersonic Kansas City, Mo. [Note: since this article was written, BIME was acquired by San Francisco-based Zendesk, which plans to close the Kansas City office in early 2016.]
Brad Slaughter, owner and partner of Bark Productions in Kansas City, Mo., confirms the importance of ultra-high-speed capacity to its business: "One of our extended businesses, 19 Below, handles large video uploads to TV stations and clients. Previously, this simple upload/download task took hours to achieve, but now with Google Fiber, it only takes a few minutes, which helps us (Bark Productions) save time, meet our deadlines, and deliver products to our clients more efficiently."
For $100 a month, businesses get high performance Wi-Fi, gigabit routing, firewall protection, online network management via MyFiber and dedicated tech support. And, for an additional $30, they get five static Internet Protocol (IP) addresses. But the game changer is still the incredible speed and efficiency of fiber. The low cost is just a bonus.