What Europe's new 'right to be forgotten' online means
Would something like this ever happen in the U.S.? Wikipedia founder Jimmy Wales doesn't think so.
Who is impacted by this court ruling?
Europe, basically--the ruling applies to the 28 European Union countries plus the four European Economic Area nations. That's more than 500 million people.
How can I be forgotten?
If you happen to reside in one of the 32 European nations, then fill out this online form Google created. You'll need three things: a "legible copy of a document that verifies your identity" (though not necessarily a photo ID), a list of all the URL links you want removed from Google's results, and an explanation of why each one is "irrelevant, outdated, or otherwise inappropriate."
Can I make a request on behalf of someone? My parents, for example?
Yes. This requires you provide a copy of that person's identity, as noted above, plus proof that you are authorized to make the request on their behalf.
How long does it take to be forgotten?
No one knows yet. Google says it is building a "system for removing links" in accordance with the EU ruling; until then, "your message is in our queue."
Is the data about me actually erased?
No. The court clearly understood that just because Google no longer links to a webpage, that page and the information in question does not suddenly vanish. However, as so much information is discovered via search engines, and since search engines enable anyone to compile a rapid dossier on a person, the Court felt that removal of search engine results was both adequate and feasible.
But I am removed from Google's results, right?
Not as much as you might hope. There are two issues: First, Google links will only be removed from EU country domains, such as Google.de or Google.fr, but not from Google.com. A person using Google.com will see the links, just as before.
Second, Google also intends to note on the bottom of its search results page when a particular link(s) has been removed. If you search a person's name at Google.de, for example, and see a notice at the bottom of the results page that a link has been removed, you might wonder if it was something just outdated, or especially heinous.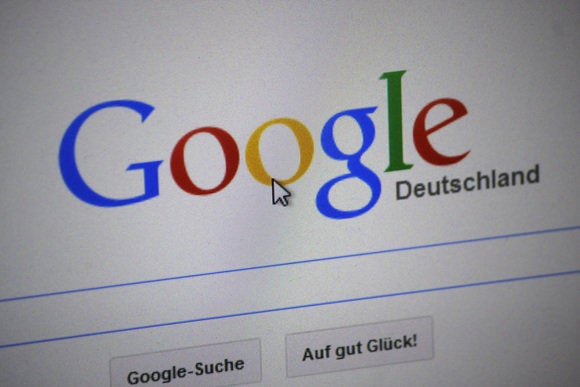 A link de-listed from Google.de will still be searchable on Google.com.
Will Google fight this ruling?
It may not, at least not vigorously or overtly. Individual privacy rights are valued differently in Europe than in the US. Plus, Google is facing several more potentially costly fights in Europe. These range from antitrust probes for both search and its Android operating system, to the company's possible association with NSA spying activities. Google is also fighting European authorities over tax revenues. This may be a case where the company decides to pick its battles.