Tweetbot 4 for iOS review: Twitter client adds split-view, activity monitor, other improvements
Tweetbot's latest update brings it back into closer alignment with Twitter's own look, but it continues to have its own excellent approach.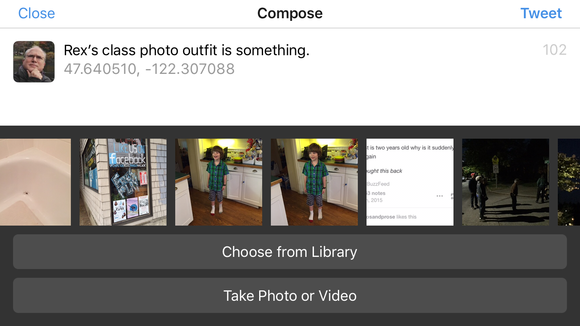 An improved image selector comes up quickly and shows thumbnails.
Though it may seem minor, being able to view Tweetbot on any iOS device in both portrait and landscape modes is a nice change, especially with the new Safari controller support, which makes it more likely I'm reading webpages inside Tweetbot instead of leaving for Safari.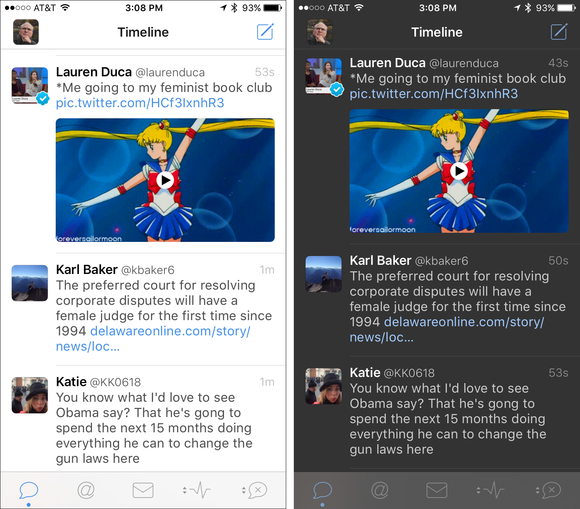 It's like day and night, the difference between these light and dark modes.
Finally, if you're a tweet-somniac, a new night mode swaps white for a chocolatey dark brown with a two-finger swipe up; take two fingers and swipe down to reverse back to daytime.
The future of Tweetbot
Twitter has been pushing back against third-party clients for years, which must be nerve wracking for any developer putting time into a client. And Tweetbot doesn't include Twitter's ads, although it may be required to at some point.
However, outside developers and individual users built, named, or inspired much of what we think of as Twitter. Tapbots' continued work hasn't stalled. They're hampered only by what Twitter exposes to them, and lets them incorporate. Let's hope that continues, and this excellent option outside the social network's more modest user software continues to thrive.
Because Apple doesn't offer trials in the App Store, there's no way to test out Tweetbot without purchasing it. However, owners of previous releases can buy version 4 at a quasi-upgrade price during the current introductory promotion. Or, after the price is set to $10, Tapbots says it will release a "bundle" for Tweetbot 3 owners that includes Tweetbot 4. The "complete this bundle" price will be $5.
Previous Page 1 2 3 4