Tweetbot 4 for iOS review: Twitter client adds split-view, activity monitor, other improvements
Tweetbot's latest update brings it back into closer alignment with Twitter's own look, but it continues to have its own excellent approach.
The new and improved
I'll admit I have a bit of interest in knowing which of my tweets people seem to care about, and the Stats panel feeds my pitiful ego. It shows an interaction summary at the top: Faves received, number of retweets, and a count of new followers. Below, it lists all of yours tweets that someone has interacted with, showing in separately color-coded favorite and retweet/quote bars the quantity. Tap the Activity tab at the top, and you can see each interaction, one at a time.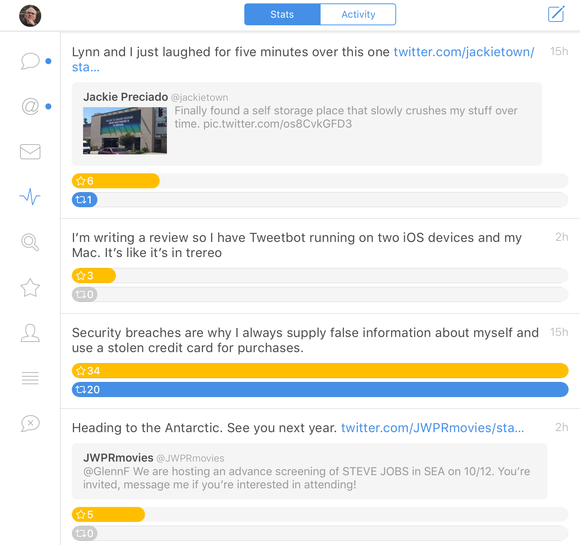 A new Stats tab helps inform you about interactions on your tweet—and maybe feeds your ego.
On an iPhone 6 Plus, 6s Plus, or an iPad, you'll get an extra column that lets you monitor activity, shows stats, see mentions, follow a list, or match stored searches—just rotate your device to landscape mode. This is a neat echo of the new split-screen and slide-over views available on some iOS devices, but entirely within the app.
There's a load of other updates, too. Tweetbot takes advantage of Apple's new Safari View Controller to load webpages. This uses a full-fledged version of Safari within the app, including honoring content-blocking extensions. It's more robust and faster than the only previous alternative offered to iOS developers.
I find the mute controls in Tweetbot invaluable, especially because they sync across iOS and OS X. Unfollow and block are coarse controls, especially when you just want silence from a given person for a short period of time—or you're trying to block all mentions of a particular sportsball game. (I wouldn't know anything about people needing to mute a loudmouth—no, not at all, no, sir.)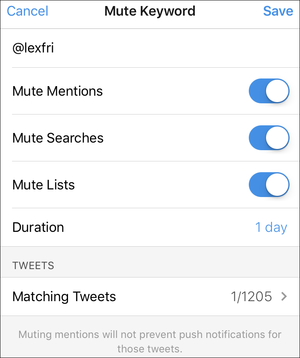 Tweetbot lets you have refined mute to prevent over-talkative friends or busy tags take a timeout. (Lex, you know I'm just kidding.)
As before, you can mute by handle, keyword, hashtag, or Twitter client, and for a period of one day, one week, one month, or forever. These tweets are silently removed from Tweetbot. The new versions lets you add users and hashtags directly from the Mute view—before, you had to find an example and use a mute control to add it. Mute for everything but clients now offers pulling matches out of not just your timeline and mentions, but also in search results and lists.
Attaching images is substantially better in this release than in previous ones. With iCloud Photo Library, I have tens of thousands of images loaded in "optimized" form on my iPhone. Tapping to add an image from the library took seconds on an iPhone 6 for the selector to appear. Now a side-scrolling list of thumbnails appears nearly instantly for the most recent images, and you can tap to examine the library more fully or take a picture.
Previous Page 1 2 3 4 Next Page