Tweetbot 4 for iOS review: Twitter client adds split-view, activity monitor, other improvements
Tweetbot's latest update brings it back into closer alignment with Twitter's own look, but it continues to have its own excellent approach.
I have one favorite minor feature: When you tap your account's avatar and it drops down the avis for other accounts, you can tap, hold down, and rearrange the order in which accounts appears in that list. Swiping left across the top lets you cycle through accounts, and you can also tap the avatar in a new message to choose a different account from which to post.
Each account can have separate settings for uploading images, videos, marking the last-read tweet, read-later saving, and URL shortening. Some of these default to Twitter's options, but Tweetbot supports major alternate services.
The iPhone and iPad versions take different advantage of the territory. On the iPhone, icons along the bottom allow access to your timeline, mentions (those @ replies), direct messages, and two user-selectable options from six remaining choices: Search/trending, faves, lists, mute, profile, and activity/stats. The iPad versions shows all nine options along the left-hand side.
Tweetbot also stores drafts. When composing a message, you can tap Close, and you're prompted to either save as a draft or delete it all together. While the OS X version has a separate Drafts window, I've always thought it clever that Tweetbot for iOS puts a Drafts button in the new message dialog. Tap it, and you can select from outstanding drafts or delete them. Location support allows dropping in precise coordinates or choosing from a list of suggested nearby named places.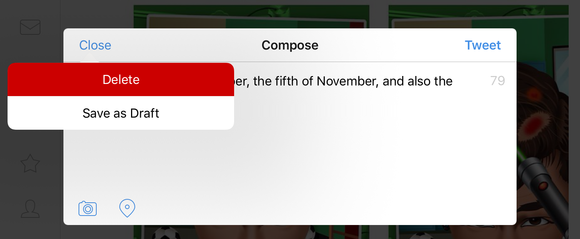 The Drafts feature retains thoughts for later retrieval.
The robust threading support in Tweetbot lets you follow often lengthy discussions, and dive deep to see offshoots. Swipe left on any tweet, and messages that precede and follow it—using Twitter's threading data—are shown above and below.
Tweetbot 4 for iOS reverses the chronology of its previous threading behavior, however. In this version, the current tweet is shown at the top of the screen, and newer replies below. However, if there are preceding tweets, swiping down reveals those. This change was introduced during beta testing, and I found it horrible at first—and then gradually got used to it. It makes more logical sense, and I adjusted.
The one flaw Tweetbot has related to threading occurs when you reply to your own tweet. If you want to have a sequence of multiple messages that link one to the other, you must reply to the previous one in the chain for Twitter to record the order properly. Some third-party clients highlight your @handle in such a reply so you can start tapping and erase it as a default choice. Tweetbot does not, though it does remove your handle in threading replies to others.
Previous Page 1 2 3 4 Next Page