Tweetbot 4 for iOS review: Twitter client adds split-view, activity monitor, other improvements
Tweetbot's latest update brings it back into closer alignment with Twitter's own look, but it continues to have its own excellent approach.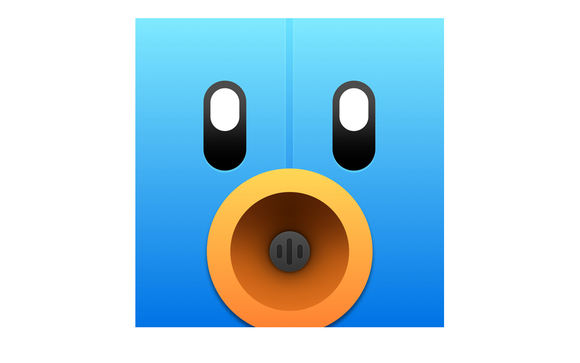 You'll find fewer enmities so fierce and opinions as strong as which Twitter client is the best—at least among Twitter enthusiasts and obsessives, who may resemble this reviewer. Tweetbot has been my client of choice for years, for both iOS and OS X, and despite dabbling with other software options—including Twitter's own releases—I've stuck with the Tapbots products.
Tweetbot 4 for iOS ($10) is now out, and shows why my trust is well placed: The product continues to mature and deepen, incorporating a lot of small, welcome changes and building in new features made available by Twitter, as well as adding some large ones. Notably, a new statistics and activity view gives you quick and easy insight into how people are reacting to what you tweet.
The biggest improvement you'll see on iPhone screens is landscape support, while the iPad and iPhone 6 Plus and 6s Plus receive a new column view, allowing side-by-side displays within the app. The image picker is enormously faster and better as well.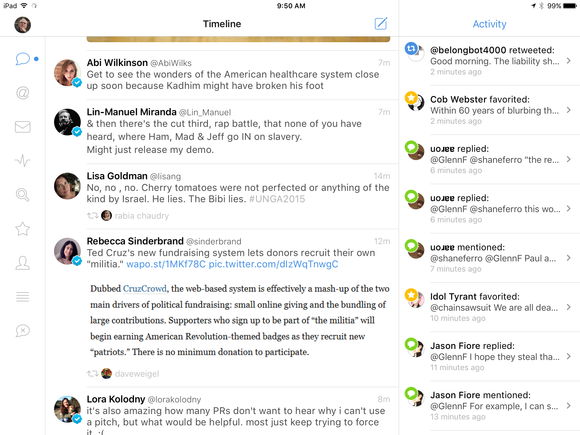 Tweetbot offers its own configurable split-pane mode for iPad and Plus models of iPhone.
Why pick a third-party client at all?
The biggest question for any Twitter client is: Why not just choose the free software provided by Twitter or use its mobile-optimized website? On the former score, Twitter's software immediately adds any new features the social network deploys, letting third parties wait for an official developer release. But it's kind of a mess.
The interface is outdated and, to my eye, aesthetically unpleasing. The organization of messages and tabs is tied to what Twitter finds important as a business—an advertising business—more than what you might want to focus on as a reader or poster. And it makes bad use of screen territory, with no landscape mode for the iPhone and a poor one for iPad. Its only advantage currently? It allows multi-person direct messages (DMs), a feature it hasn't rolled out to third-party apps yet.
Tweetbot better reflects how I use Twitter, keeping categories and kinds of things separate. Most critically, it incorporates a sophisticated set of mute options, which can be used effectively to avoid unfollowing or blocking people or groups during periods of time (or even forever) that you don't want to have their tweets in your timeline. At $10—$5 during an introductory period—I have a hard time arguing against its value, especially for those who post from more than one Twitter account.
The ins and outs of the bot
When launching Tweetbot for the first time, you'll find that it has already picked up the Twitter accounts you've already entered in iOS. You can also add other accounts manually within the program. For those who manage multiple accounts for fun, work, or profit, Tweetbot has easy ways to swap among them.