This is why you need Google Spaces
Google's newest social app is called Google Spaces. Here's why you should use it, and how.
At the bottom of that Search page are four icons -- the usual suspects (link, picture and text) plus one more: YouTube. By tapping on the YouTube icon, you can go to and use YouTube just like you can on the YouTube app. But, again, the Spaces share button remains at bottom right.
Bonus feature: The Spaces Search page retains a history of all the links you've posted for easy referral -- a kind of automatic bookmarking in icon form.
Use Spaces as a place to have Twitter conversations
It's frustrating to converse on Twitter because of the 140-character limit.
By creating a space for each Twitter thread, you can have a real conversation, take all the "space" you need, and post pictures, videos, links and more to augment the words.
Just click or tap on the INVITE link, grab the URL and paste in a tweet that says: "Let's talk about this on Spaces."
The best part is that Twitter lurkers who want to watch the conversation unfold can do so, too, but unlike Twitter itself, you can deal with trolls and haters by deleting their comments and blocking them from the entire conversation (not just blocking them from your own eyes, as is the case with Twitter itself).
Use Spaces to have private conversations
Spaces is great for extremely private conversations. First, you can invite just a few people, and once they've joined, you can make it impossible for anyone else to join.
Click or tap on the More Options item (three vertical dots) and choose "People in this space." At the top, you'll find the current link to the space, with a trash can next to it. By clicking or tapping on the trash can, you delete the link so nobody else can join. It's like pulling up the ladder in a treehouse.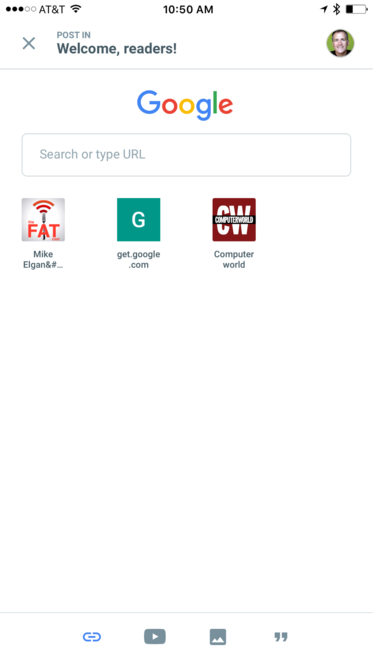 The mobile app lets you use Spaces instead of the Google Search app -- or the YouTube app. As a bonus, it automatically bookmarks all the sites you've shared.
Later, if you want to invite others, you can generate a new and different link to the same space in the same way you generated the first one.
Also: The "People in this space" page is where you can remove or block users. Removing kicks them out of the current space. Blocking kicks them out of all your spaces forever.
(On the mobile app only, tapping on a person's profile picture brings up their Google bio page.)
You can also delete your own posts on your own spaces, or on anyone else's posts that you've commented in.
Previous Page 1 2 3 4 5 Next Page