This is why you need Google Spaces
Google's newest social app is called Google Spaces. Here's why you should use it, and how.
Google Spaces is an innovative social service that can give you unprecedented control over your conversations, but only if you know how to use it.
Google last week announced a slew of new products, services and initiatives, including Allo, Android N, Assistant, Daydream, Duo, Home and Instant Apps. Nearly all of them are "catch-up" products -- Google's versions of products that other companies have already shipped. And all of them are coming out later in the year.
But one Google announcement alone is both unique and currently available: Google Spaces.
The Spaces launch inspired confusion and criticism. After all, why launch a social service when Google already has Google+, Hangouts and social features inside many of its other services, such as YouTube (not to mention the new social products unveiled last week at Google I/O)? Does the world really need another social product?
Some users complained about the unusual user interface, the difficulty in finding specific threads in a conversation and other quibbles. I agree with these complaints.
Nothing is perfect, but Spaces is the best service I'm aware of for specific kinds of conversations.
Besides, the online commenters who respond to "Yet Another Social Service" with a reflexive gnashing of the teeth are missing a central fact about Spaces.
Spaces is not like Twitter, Facebook, Instagram, WhatsApp, Google+, Pinterest or any of the rest. Its purpose is not for you to devote your online life to it or reject it as a threat to your chosen social religion.
You can use Spaces once a year or once a minute, if you want to, and there's no benefit or penalty to using it more or less than that.
The best way to think about Spaces is that it's Slack lite. Spaces is to Slack what Keep is to Evernote.
Best of all, there's no sign-up process.
Launching into Spaces
The most unusual feature of Spaces is that you don't have to sign up for anything. Simply using your regular, generic Google password enables you to create and participate in Spaces conversations.
(Note that the service is called Spaces -- with an uppercase S and plural. When you create a discussion area, the area is called a space -- with a lowercase s and singular).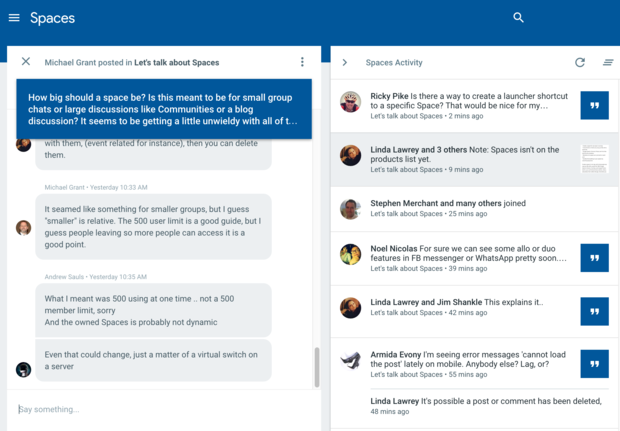 The desktop-browser version of Spaces feels like a messaging app on the left and your own private Twitter on the right.
To create a space, you simply click on the "Create a space" plus sign.
Once a space has been created, there are two basic views. One is the space view, which looks like a chat app. In the desktop version, it appears on the left side of your screen. Posts and comments appear in round-corner bubbles.