The new Flickr: Goodbye customers, hello ads
Longtime Flickr user Derek Powazek calls Yahoo's new Flickr moves for what they are: A replacement of paying customers with advertising, and a design that focuses on photos but not community.
Flickr always had its share of problems. The servers used to crash. The design was simplistic, then confusing, then outdated. The first iOS app was laughable. But the one thing you could always rely on Flickr for was honesty. From back in the day when cofounder Stewart Butterfield wrote a blog post titled "Sometimes We Suck," to its current community guidelines, one of which simply says "Don't be creepy," you could always trust Flickr to speak simply and truthfully to you.
On Monday, Yahoo relaunched Flickr at a swanky press event in New York. And while most coverage will be of the site's new design, the most significant changes are to Flickr's business model. But my takeaway is that the days of Flickr's open and honest voice are over.
About that design...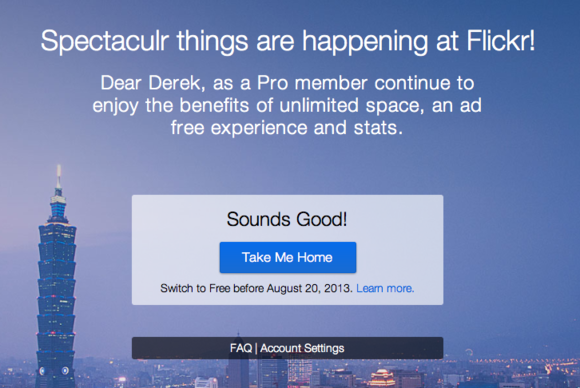 Flickr's design has been at war with whitespace since last year's introduction of the "justified" view. This redesign ramps up that trend. Every pixel that could be filled with a photo has been, from corner to corner, often (but inconsistently) with infinite scrolling.
Until, that is, you scroll down an individual photo's page, or wander into a part of the site that hasn't been updated (like settings or uploading an avatar or the help forum). Then all of a sudden you're back in Flickr's old design, which is a jarring change. These pages will probably get updated eventually, but launching with these kind of omissions shows where Yahoo's priorities lie, and it's not with the community features that made Flickr famous.
It's now impossible to see what's clickable/tappable on a photo page without just blindly punching at stuff. The black boxes make the whole site feel clunky and, strangely, old. The flat design ethos feels misapplied here. It's a stab at simplicity that actually makes everything less simple.
I'm glad Flickr is updating its visual design, even if I'm not a fan of the direction. It's long overdue. But Flickr was not just about photos. It was about the intersection of photos, people, and places. This redesign puts more emphasis on photos at the expense of everything else.
Flickr was the first photo site to add a social network, the first to allow other people to tag your photos, the first to add geolocation data. Visit a photo page today and try to find any of that. It's hidden in the 45 pixels at the bottom of the screen.
A very different business
The far more dramatic changes are in Flickr's core business model. Until today, Flickr had a simple proposal: You could join for free with a limit of 200 photos. If you didn't care about the past, you could happily chug along, your most recent work front and center. But if you upgraded to Flickr Pro for $25 per year, you had unlimited photo uploads, now and forever, along with a few other features such as stats and an ad-free experience.