The best new features unveiled at the Twitter Flight developer conference
Twitter CEO Jack Dorsey kicked off the company's developer conference, announcing several new mobile products and features.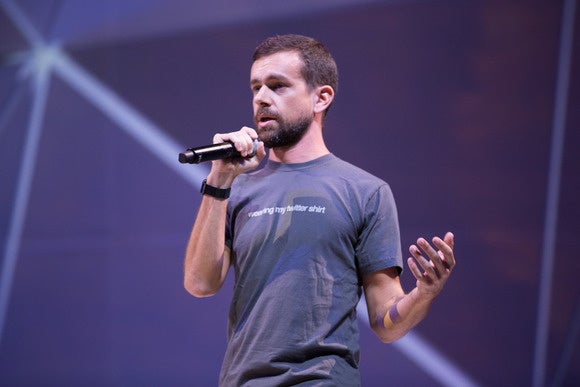 Credit: Twitter
Twitter's old/new CEO Jack Dorsey kicked off Twitter Flight, the company's mobile developer conference, in an unusual way: by apologizing to the people in the audience.
"Somewhere along the line our relationship with developers got a little bit complicated, a little bit confusing, a little bit unpredictable," Dorsey said during Wednesday's Twitter Flight keynote address. "We want to come to you today and first and foremost apologize for our confusion."
After committing to developing a "transparent" relationship with mobile developers, Dorsey welcomed to a stage several Twitter execs to explain a bunch of new products and features for Twitter, as well as for the company's year-old app development platform Fabric. Here are some announcement highlights from Twitter Flight 2015.
Twitter Polls
The most exciting announcement for Twitter users was the introduction of Twitter Polls. Now anyone on Twitter can run a poll within a tweet. Your followers vote privately for 24 hours and then get a notification to check back and see the results after the poll closes.
Coming soon! We're rolling out the ability for everyone to create polls on Twitter: https://t.co/pH5a8q9Ujz pic.twitter.com/ijAKEMUdf1

— Twitter (@twitter) October 21, 2015
Twitter for Mac
Finally! Twitter is revamping its long-neglected Mac app, which will be available later this year. Twitter for Mac has been designed for El Capitan, and it comes in dark mode. Mac users will be able to send group DMs, play videos and Vines and reply to tweets inline, as well as be able to see Twitter highlights in Notification Center.
New Twitter for Mac in dark mode looks so good pic.twitter.com/OnDukgtslx

— Rus (@rus) October 21, 2015
Email login for Digits
App developers have used Twitter's mobile login tool, Digits, to let users sign in to an app using their phone number and a SMS confirmation code. On Wednesday, Twitter announced that Digits will also incorporate email login and verification.
"Install" button in profiles
Twitter lets developers add a "Install" call-to-action button to their tweets in order to drive app installs. With the new App Spotlight feature, these Install buttons will also start surfacing right underneath the bio in the Twitter profiles of your favorite apps, like Candy Crush Saga.
App Spotlight will let you feature app install on your Twitter profile page https://t.co/Kx17ycE7sm #TwitterFlight pic.twitter.com/bKS2BzNp9a

— Danny Sullivan (@dannysullivan) October 21, 2015
Crash reports for tvOS