SproutSocial, a social management dashboard you'll truly enjoy using
SproutSocial is a beautiful social dashboard full of useful features that is not cheap to use, but is bound to change the way you manage your social media and branding.
At the Publishing tab, you can send out updates. You can also schedule them according to your own wishes, an RSS feed such as your blog, or the Sprout Queue. The Sprout Queue is a list of optimal times you need to set up in advance, and to which you can then add posts with one click. SproutSocial's Premium plan ($99/user/month) also includes an Optimal Sending Time algorithm which devises your Sprout Queue for you according to activity on your social channels.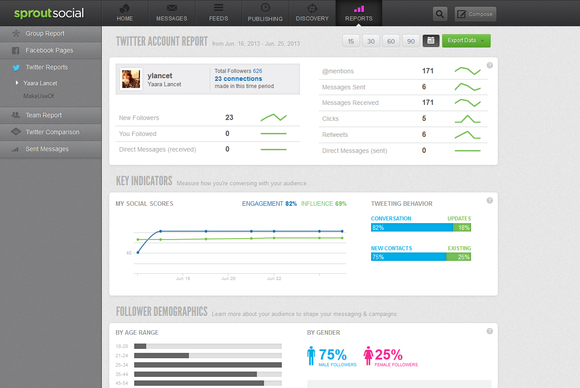 The Reports tab holds many insights into your social activity and audience.
Although very nearly perfect, SproutSocial does have its little problems. The most serious of these was an unexplained disappearance of every scheduled update containing an image. After being scheduled regularly, these updates consistently vanished without getting published, with no trace of them in the sent messages tab or anywhere else. After presenting the issue to SproutSocial's support, the company determined the cause to be a connectivity problem with popular image-hosting service yFrog. It was easy to work around by switching to Twitter's image hosting service through the settings.
SproutSocial is not a cheap option, starting at $39/user/month for the Standard plan, which gives you ten profiles to manage. However, it is easily the best social dashboard I've used in the past couple of years. Creating a social-management system that's both useful and feature-packed and yet is intuitive and easy to use is quite a task, and SproutSocial passes this test with flying colors. It's a gem in a world of chaos, and for that, it's worth at least the 30-day chance of its free trial. See if you can go back to your old ways after that.