Post like a pro: Three social media apps for scheduling and more
Read on to learn about three apps that can help you post your content across various social networks, and, in some cases, a bit more.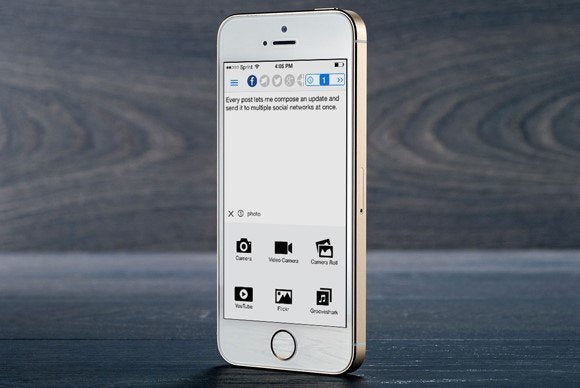 Managing your social media presence can be a full-time job--and an expensive undertaking. A host of products is available to help, but not every tool is right for everyone. Read on to learn about three apps that can help you post your content across various social networks, and, in some cases, a bit more.
Everypost
Everypost's logo features a megaphone, and its tagline is "amplify yourself," so I was a little worried about this social media app for Android and iOS when I first started testing it. I feared it would be nothing more than a service for sending as much content as possible to as many social networks as possible. Luckily, it's more than that.
Everypost does help you post content to multiple networks at once, including Facebook, Twitter, Google+, LinkedIn, Pinterest, Tumblr, and Dropbox. The free version limits you to posting to one platform every 24 hours, which is unfortunate, but opting for the $10-per-month Basic Plan removes that restriction. It also adds unlimited and customized scheduling, where the free version lets you schedule up to 10 posts at a time.
Everypost doesn't work with Instagram, because the photo service does not make an API available, Everypost says, but Everypost actually includes some cool Instagram-like features, such as the ability to add filters to the photos you post. You can't use Everypost to post multiple photos yet, but the company says it's adding that feature.
The interface is clean and easy to use, and posting text and photos to your favorite sites is a snap. I like how you can select which networks you'd like to use for each post, rather than having your content be sent to all of your networks by default. That extra bit of control goes a long way toward making this service usable. I also like how it automatically shortens Twitter posts for you, yet still allows them to look polished when posted.
Everypost is not a tool for browsing your social network feeds; it's just for posting. And it doesn't include analytics as some of its competitors do, but the company says those are coming in the soon-to-be-released Web version. That will be a welcome addition to an already worthy social media management tool.
Sprout Social
If analytics are a must-have for your social media needs, Sprout Social has you covered. This Web-based service and mobile app (Android and iOS) is a full-featured social media manager, allowing you to post content to and view feeds for Facebook, Google+, LinkedIn, and Twitter, and see full analytics for each of these sites. Unfortunately, Sprout Social is expensive--enough so that it may be prohibitive to many small businesses.