Polaroid Swing review: For those times when a snapshot is not enough
Free iPhone app straddles the line between photo and video.
There's Apple's Live Photos, Microsoft Pix's Live Images, and now with the new Polaroid Swing iOS app (free on the iTunes Store), there's Polaroid's Moving Photos, the latest in a series of image hybrids created for times when a picture equals more than a thousand static words. Polaroid Swing creates a one-second photo/video that aims to capture an instant the way we actually see it—in motion.
Recording a second of time in a high-speed 60-frame sequence, Swing uses a stitching algorithm to output a smooth moving image, which you can shoot with an iPhone or iPad. Viewers get to see the entire spectrum of movement in one frame: Go forward in time with rightward movement of the phone or swipe of the finger, and backward by moving in the opposite direction. You can endlessly rotate the image back and forth, like a hologram. And if you rotate the camera around you while holding down the Record button, you can use the front camera take a quick 3D-like selfie, complete with rotating background. That's pretty cool.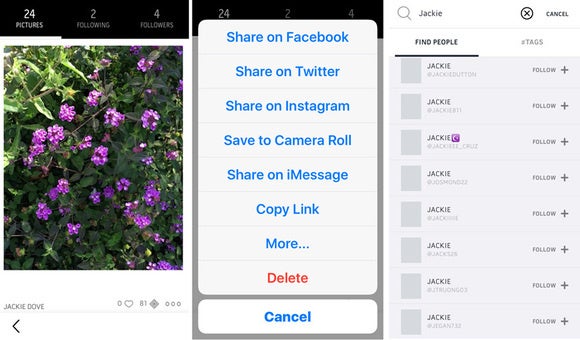 Despite its nostalgia-inspired Polaroid name, Swing's concept is not unique. Phhhoto, Boomerang, Fyuse, and others also produce a variety of dynamic images.
Swing is more challenging than it looks. That's because despite its point-and-shoot ease of use, creating something worth looking at with Swing requires a different type of vision, and some pretty good reflexes. Don't get me wrong: You can always launch Swing, aim it at your subject and tap to shoot—and every time you do that, you get a one-second video with the potentially engaging visual movement. Potential is the key here, because not all movement is inherently interesting and not all images will discernably move.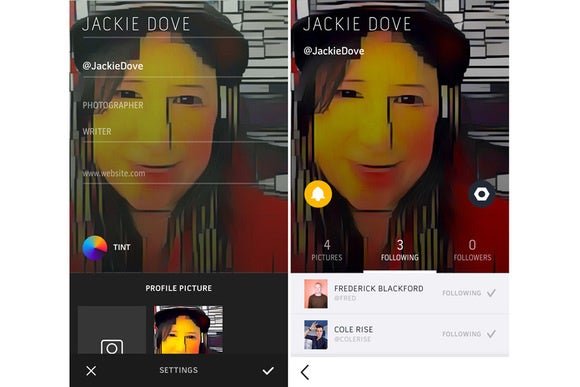 Swing wants you to be part of its community.
Upon choosing the app's shooting pane, a set of icons lets you switch between the front and the back camera, turn the flash on or off, and apply one of four extremely basic built-in filters. Then tap the big red Record button for your shot, write a caption or not, and then share. Shooting is in portrait orientation only. A tiny pulse counter at the bottom of each image automatically registers how many times the photo has been swiped or rotated to view a photo's motion.
The Swing team says that's because pulse is an engagement tool designed to show how often users actually examined the posted Polaroid and how many times they interacted with it. It's not about the quantity of likes, but the quality of engagement.