Opera's battery-saving browser update is a must for low-end PCs or tablets
It lets you work across multiple tabs far more effectively than Microsoft Edge does.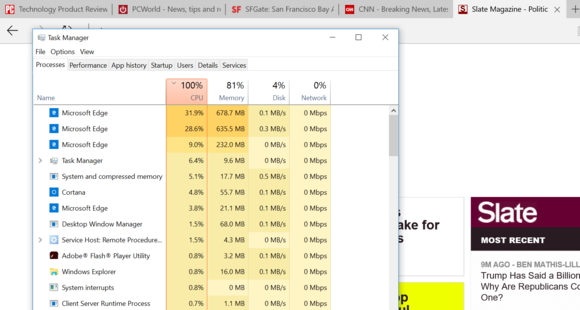 Here's Edge's CPU usage, measured on a system running an Atom x5 Z8300 chip, after 30 seconds of idle time. Credit: Mark Hachman. (Click for larger image).
I also blocked ads in Opera that I didn't in Edge, if only because Opera can block them natively, while Edge cannot. (I ran a stock version of Windows 10; Edge ad-blocking extensions can be enabled only via Insider builds at the moment.)
The comparison isn't to point out the deficiencies in Edge, but to highlight how a tuned, optimized browser can dramatically improve your browsing experience.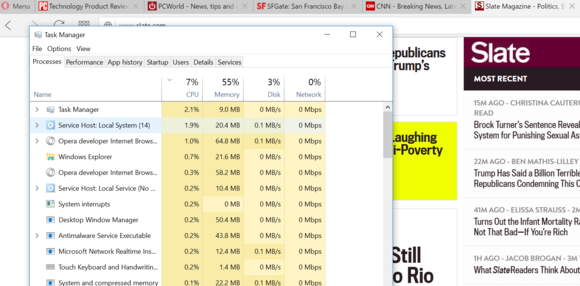 The same five tabs on Opera, under the same conditions—though ads were blocked here, and not in Edge. Credit: Mark Hachman. (Click for larger image).
I then tried the the developer edition of Opera, however, and wow! The difference was night and day. After enabling ad blocking (previous versions of Opera enabled ad blocking by default, and this feature may be turned on in the stable release of Opera 39 as well) CPU utilization dropped to an astounding 7 percent after 30 seconds, after hovering at about 22 percent or so for most of the duration.
Opera seemed to fight continually to keep the CPU usage low. I would add a tab, and CPU usage would spike, then drop. At about 16 tabs, CPU consumption settled in at about 50 to 60 percent, and twenty tabs—my historical testing threshold, though I use about 40 tabs normally—was acceptable as well. Chrome didn't quite offer the CPU savings of Opera, though the fluctuations in CPU usage over time meant that this was more of an observation than actual fact.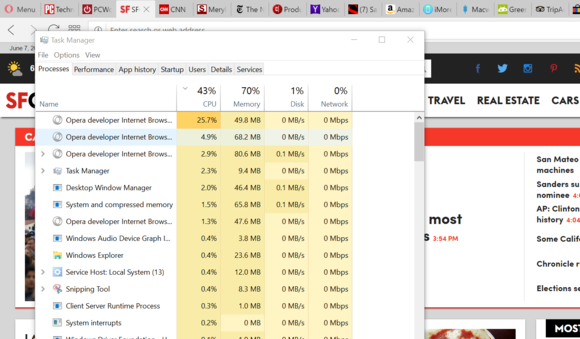 Opera's new battery-saving mode using 16 tabs (not all of them shown). Credit: Mark Hachman. (Click for larger image).
To preserve power in the new low-power mode, Opera says that parts of the browser's code have been simplified, and its animated themes optimized. Additional improvements include reducing activity in background tabs, adapting page-redrawing frequency, and tuning video-playback parameters, according to the company. It seems like the browser is essentially "tombstoning" tabs that are not in use, putting them in suspended animation until you revisit them.
Opera's new browser does have its limitations. As I opened a new tab, CPU usage spiked, and the browser's ability to open a new tab was clearly constrained by the microprocessor's limited power. Don't expect it to improve your overall performance in Windows or other apps, either. But importing bookmarks from Firefox or Chrome is a snap, and Opera's interface is similar enough to that of Internet Explorer or other browsers to make it easy to switch.