New Google mobile search feature lets you save and sort images from the web
Similar to Pinterest, you can tap your way to photo-collection bliss when looking up images in any mobile browser.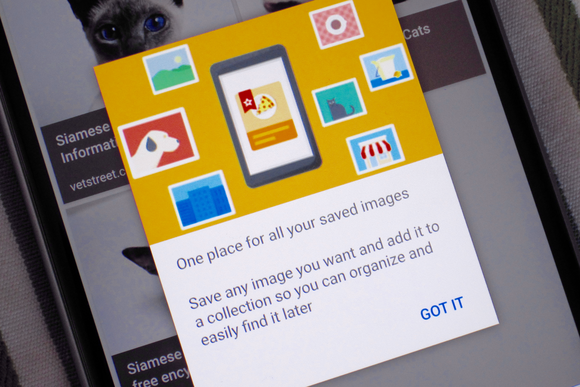 Credit: Derek Walter
Google has a new mobile-friendly tool to help you spot, save, and organize images you find in its search engine.
Once you spot an image you want to save, select it and then tap the star at the bottom of the page. This will add it to a permanent collection synced to your Google account, according to Google's Inside Search blog.

Find images and then saved them for later when performing a Google search on a mobile device. Credit: Inside Search Blog
You can organize the images later into your own folders, which could make it easy to sort your cat images into categories for Siamese, Calico, Tuxedo, or "unidentified feline."
It works across Android and iOS in any mobile browser, as long as you're signed in to Google.

The new feature works in any mobile browser, such as Chrome, Safari, Firefox, or Opera. Credit: Inside Search Blog
Why this matters: A lot of people use Google to find images, so this gives you an easy way to find them later without the need to endlessly scroll through your image roll. The new feature also seems like the right type of add-on to integrate with the new Collections feature in Google+, which has a Pinterest-style method for curating and sharing groups of images.