Microsoft tries social media again with Skype sharing and Sway blogging
Microsoft's track record is abysmal, but these subtler takes could ease users into using Skype and Sway as social tools.
Microsoft originally launched Docs.com in 2010 as a way to share Office documents with Facebook users, of all people, and then as its own sharing portal. But as sharing became integrated into the Office apps themselves, and became an integral part of web content as a whole, Docs.com became superfluous. Journal wants to change that.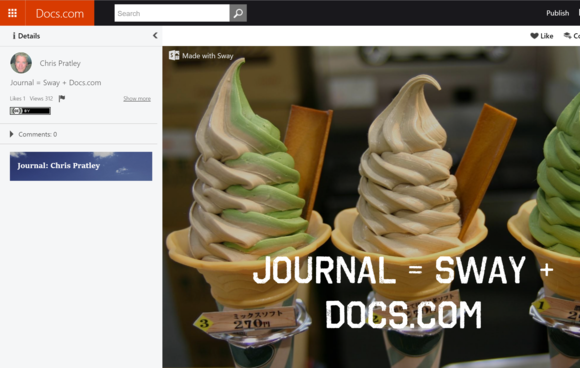 Sways will now be hosted on Docs.com as a tool for bloggers.
"This has been a long time coming - it's a notion we've had since the inception of Sway that it could be used as a public blogging or online essay tool," Chris Pratley, the general manager of Sway, said in a... Sway. "And finally it is a reality."
The idea seems to be that if you log into Docs.com with a Microsoft ID, you'll be able to launch a Sway post as a Journal. At press time, though, that capability doesn't seem to be enabled. It's also unclear whether Sway will prove to be a useful blogging platform, as Sways aren't even time- or date-stamped.
It's too soon to know whether Microsoft's new social initiatives will gain any traction, but they probably won't do any worse than Soc.l. Do you see Skype's potential as a social platform? Do you still use Soc.l? Let us know in the comments.