Marketing drives Facebook at Work deployment at Coldwell Banker
Coldwell Banker's IT staff took a backseat to marketing when the real estate brokerage rolled out Facebook at Work. The program is just a pilot, however, and IT will eventually have to step in if the company decides to integrate the platform with corporate resources.
"Our argument from the marketing side is this is happening already, so how do we make the best of this… new way of communicating in a blend with our company's policies and procedures," Bragdon says. "We're hoping at some point we can get this integrated with single sign-on, and that's really where we're going to have more of the IT buy-in."
Less than two months ago, Bragdon identified 11 office locations that already used Facebook Groups heavily (and one more office that did not) to pilot Facebook at Work. Among the 1,100 employees associated with those offices, nearly 55 percent of them signed in and set up their accounts within 10 days, Bragdon says.
Shortly thereafter, Coldwell Banker flipped the switch on all of its employees in Southern California. At the end of November, less than two weeks after invites were sent to 4,500 employees, the overall sign-up rate was 33 percent, according to Bragdon, who expects the majority of those remaining employees to join in the near future. Plans are also underway to bring on employees in the Arizona offices.
Bragdon considers the early adoption rate a success, "especially in an industry where you have a wide range of users," he says. "This is something new. Luckily the Facebook name of the product helped. [Employees] kind of understood enough about Facebook to … be really comfortable with it."
Facebook at Work not the same as Facebook for personal use
To proactively address any concerns Coldwell Banker staff may have about mixing personal and work information on Facebook, Bragdon tried to be as clear as possible about how the tool works. "The way that we describe it is: 'It is built off of the Facebook architecture, but it's its own private ecosystem. There are no ads, there's no Candy Crush,'" he says. "It really is this collaboration and communication platform that's again just built off of the familiarity of Facebook."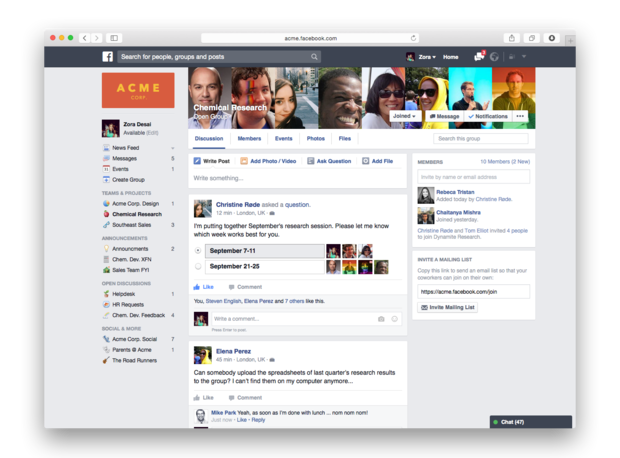 Credit: Facebook
Bragdon and Facebook both say user information is never shared between personal and work accounts. "Nothing shares in any direction," he says. "You can't share content from the Facebook at Work profile onto anything outside of that ecosystem."
Facebook at Work has been available as a limited pilot for about 11 months, but the company doesn't plan to make publicly release it until early next year. Representatives from Facebook talk with Bragdon every two weeks to collect feedback about challenges and limitations, and to answer questions.
One such limitation: a "seen by" feature that shows the specific users who have seen posts in Groups on Facebook at Work. Bragdon says the tool is valuable, but when a Group reaches a certain size the seen by feature disappears.