Life in the fast lane: What gigabit Internet makes better
An upgrade from a trickle to a flood has made your reporter feel like he's living partly in the future: The Internet can still be really slow, even with a fiber link.
It takes a few hours for an installer to mount a new external termination box on the house, and then set up a battery-backup system (primarily to keep phone service working during an outage), and the internal optical terminal. CenturyLink uses a couple of routing features particular to the enterprise, so I went with their $100 modem, which supports those directly. It's got dual-band 2.4GHz/5GHz Wi-Fi plus gigabit ethernet, and they give a customer full administrative control. (A software-engineering neighbor is looking into a non-CenturyLink-provided alternative with the same features, but that CenturyLink can't remotely configure or access.)
But after plugging everything in to my existing network infrastructure—three AirPort models of varying vintages connected via an ethernet backbone—I wasn't able to get a speedtest to break about 70 or 80Mbps. I connected directly to the CenturyLink modem and, boom, several hundred Mbps! I was baffled, as my routers were all linked via gigabit ethernet switches.
Turns out I had a 100 Mbps single-band-at-a-time 802.11n AirPort Extreme near my basement office computer. I don't move giant files that often across the network, and had frankly forgotten. For testing, I set up and used the 5GHz network on the telco-provided modem, and then purchased the TP-Link Archer C7, a well-reviewed 802.11ac router that costs about $100. (I didn't need another AirPort Extreme, but wanted gigabit ethernet, which the AirPort Express still doesn't offer.)
Once the stars and topology aligned, I routinely saw several hundred Mbps throughput. But weirdnesses remained. Once you have a super-fast connection, you notice when it's poor. My 12-inch MacBook, which supports 802.11ac, would routinely report sub-100 Mbps downstreams when I tested. After various futzing, I found it preferentially connects not to either of the closer 802.11ac routers (one upstairs in our living and one just below it in the basement), but to the 100 Mbps ethernet-connected 802.11n AirPort Express several rooms away and in the basement! Toggling Wi-Fi off and back on forces a reconnection to an 802.11ac signal.
With everything working, is the Internet a super wonderful dream? Well, no. But it's better.
Web sites
With a surfeit of bandwidth, I gorged. I took a long-delayed move to shift from one hosted backup to another, and had 1.3TB of data to upload. It took 48 hours—but only because I hadn't optimized settings in the first day. Nearly 300GB uploaded in the first day and then, after tweaking, 1TB in the next.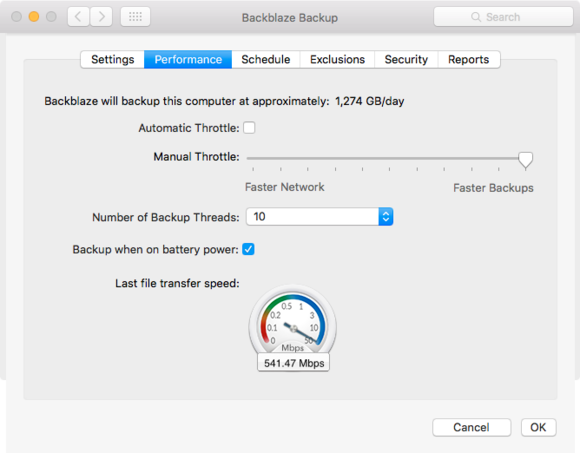 Uploading vast amount of data, such as for priming a cloud-hosted backup or photo library, is a totally different experience on gigabit broadband.
I tried messing with various cloud photo services, too. While I've uploaded a lot to Google Photos, I'd restricted myself to a subset. Now I added many dozens of gigabytes and tens of thousands more files. It went quickly, but nowhere near as fast as the upstream bandwidth would allow.
Previous Page 1 2 3 4 5 Next Page