Indiegogo launches crowdsourcing for big businesses
Crowdfunding campaigns not only fund R&D, they're a forum for new, consumer-based ideas
Crowdsourcing site Indiegogo announced today at CES that it has launched a service for big businesses to garner public funding for R&D projects, validate product proposals and run cash-prize contests for new consumer-based ideas.
Like other crowdsourcing services, Indiegogo's Enterprise Crowdfunding service also allows consumers to get their hands on new products before the general market does through pledging money toward that product's development.
Since being launched in 2008, Indiegogo has served as a crowdsourcing platform for small businesses, charities and entrepreneurs. To date, it has run more than 400,000 campaigns.
Big businesses, however profitable they may be, often have a plethora of internal projects or ideas that face an uphill battle for funding approval, and developing projects in-house requires large up-front costs.
Running a 30-day crowdsourcing to fund a project, validate a concept or open up a forum to the public for new product ideas, removes much of the financial onus from the business, according to Gwen Nguyen, Indiegogo's senior director of corporate partnerships.
The 30-day campaigns allow for direct customer feedback on new products (including features, use cases, prices and messaging) and can prove market demand through actual sales as far as nine months in advance of a product going to retailers.
The campaigns also build awareness and create excitement among early adopters and the media, Nguyen said.
"Indiegogo and crowdfunding provide a unique opportunity for large enterprises to solve a long-time problem, which is, 'How do we produce products that customers and consumers actually want?'" Nguyen said.
The Indiegogo Enterprise project has been in pilot phase over the past year, but it has already attracted Fortune 500 corporations who've run successful campaigns.
Google, Hasbro, GE and Philips, for instance, have run innovation contests offering cash prizes and crowdfunding campaigns on Indiegogo.
In February, FirstBuild, GE Appliances' community of designers, engineers and appliance users, focused on creating next-gen appliances, and launched its Paragon Induction Cooktop through campaign on Indiegogo.
GE's Paragon Induction Cooktop uses a Bluetooth-connected temperature sensor and associated iOS app to control temperatures within 1 degree Fahrenheit so it can be used for precision cooking techniques like sous-vide. GE's FirstBuild offered early bird pricing on its Indiegogo campaign for the cooktop at $149, with future retail pricing expected to be $249. The campaign raised more than $350,000.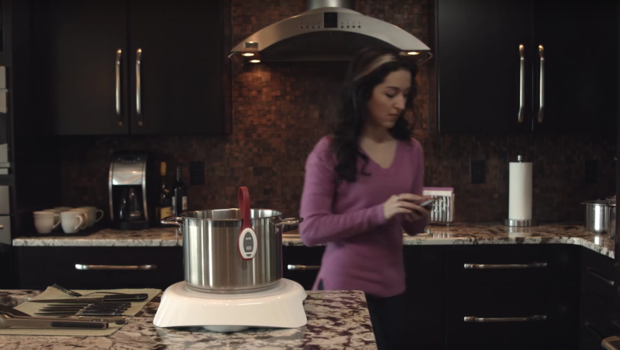 GE
GE launched a campaign in February for its Paragon Induction Cooktop, which uses a Bluetooth-connected temperature sensor and associated iOS app to control temperatures within 1 degree Fahrenheit for precision cooking techniques. The campaign pulled in more than $350,000.