How to test your home Internet connection speed
Stop waiting on a slow Internet connection and do something about it! Testing your Internet connection only takes a few minutes, and it can help you figure out how to address network issues.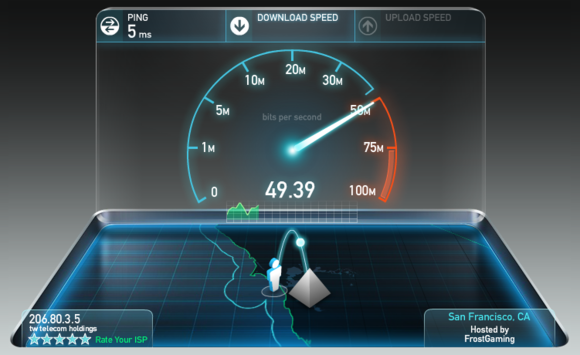 Testing your Internet connection's performance is a straightforward exercise. You don't need any extra software--all you need is a computer with a Web browser. But there are also a few things you can do to make sure you are getting the most accurate reading of your Internet connection. Here's what to do.
Get ready
For best results, you want to use a wired connection if at all possible; that way, you don't have to worry about interference and performance fluctuations that can occur while you're on Wi-Fi. If you have any other wired devices on your home network, plug your test computer directly into the modem so those don't interfere in your testing.
If you're stuck using Wi-Fi--say, you have a MacBook Air or a tablet or some other device that doesn't have an Ethernet port--do what you can to minimize interference. Make sure your Wi-Fi router is away from other electronic devices like cordless phones, and temporarily disconnect any other devices from your Wi-Fi network--after all, you don't want another computer on your network to download a gigabyte worth of software updates while you run your tests.
While you're at it, double-check to make sure your computer isn't downloading something in the background. Check the Task Manager on Windows (summoned by pressing control-alt-delete) or Activity Monitor on OS X, and look for network statistics (it's labelled "Network"on OS X, "Networking" on Windows). Close or quit all apps on your computer to keep apps from downloading software updates while you test your connection. Your bandwidth usage may not drop to zero and stay there, but you want it as close to zero as it'll get. If your operating system is downloading updates, there isn't much you can do aside from wait and test your connection later.
If you're having any problems with your connection, now is a good idea to reset your modem and router. Switch them off and unplug them for a few moments, then plug them back in and switch them on.
Test your connection
Ookla's Speedtest.net is the go-to site to test your Internet connection; all you need is a Web browser with JavaScript turned on (it usually is unless you switched it off) and Adobe Flash installed. If you get a message telling you to use a faster browser, ignore it; Web browsers may affect how quickly a webpage renders, but it has nothing to do with your connection speed.
All you have to do at this point is click the green "Begin Test" button, and Speedtest.net will check both your download and upload speed. This may take anywhere from a few seconds to a few minutes, depending on your network speed.