How to monitor, measure, and manage your broadband consumption
Dealing with a data cap? Tired of getting dinged for busting through it? Learn how to identify the hogs on your network and how to make sure your ISP is delivering everything you're paying for.
Cucumber Tony is a lesser-known firmware to consider. I reviewed it for TechHive's sister site NetworkWorld recently and found that it supports a couple of different router brands. Gargoyle is another firmware you might not be familiar with. It offers some good bandwidth monitoring and control functionality, with support for a few router brands.
For the more adventurous, another option is to build your own router out of an old or spare PC, or even run it on your main PC with a virtual machine. Sophos UTM and Untangle, for instance, are operating systems that provide routing, firewall, web filtering, bandwidth monitoring, and many more network functions.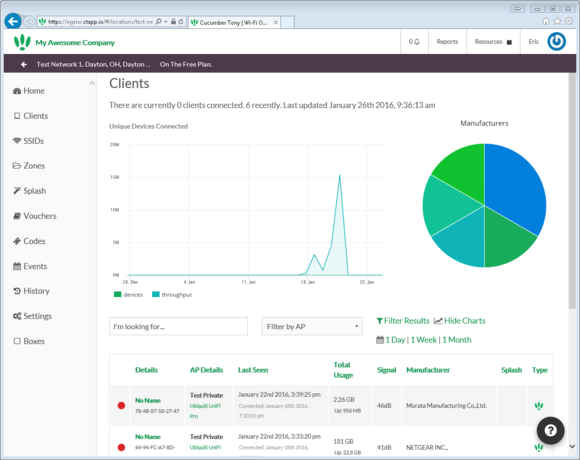 Cucumber Tony shows a graph and table of each device's bandwidth usage on the Clients page. (Click to expand).
Utilize your router's QoS to distribute bandwidth
Most routers have a quality-of-service (QoS) feature, but it's not enabled by default on some routers. The idea behind QoS is to regulate bandwidth usage in a way that ensures good performance on the network, particularly with more sensitive types of services such as video streams, VoIP calls, and online gaming, where any lag can be quite noticeable. It basically gives these types of traffic higher priority—on the network and to Internet access from the network—compared to services that aren't sensitive to lag (e.g., file downloads, torrents, software updates, and general web browsing).
The exact QoS features and settings vary between by router brands and models, but most provide a way for you to give particular devices higher priority by tagging their MAC or IP address, or by marking types of services for higher priority. Some routers come with a collection of default QoS settings that you can tweak and customize.
Login to your router and see if it has any QoS settings. Take a look at the default settings, as it might already give the most common services higher priority. If not, see if it allows you to classify traffic based upon the service type. I suggest going that route first to help alleviate any performance issues on the network. Secondly, you could consider prioritizing any critical devices you'd like to have higher priority.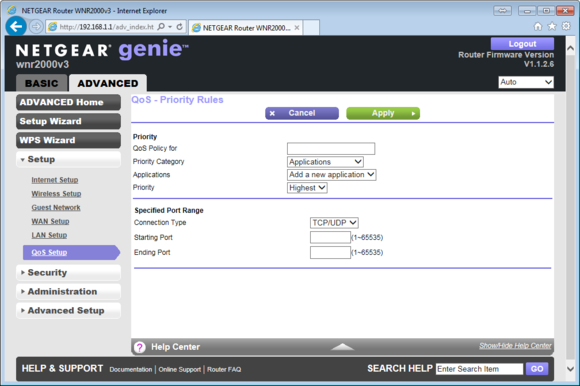 This Netgear WNR2000 802.11n router has QoS pre-configured for a limited number of applications, but you must configure your own rules for anything the manufacturer didn't think of.
Optimize your network to increase speeds
At first thought, your Internet connection seems to be the bottleneck to the Internet. Your local network might be able to handle up to 1000Mbps of bandwidth, while your Internet-download speeds are likely less than 60Mbps (much less than that if you're relying on DSL or—shudder—satellite Internet service). You'd think that your network could easily handle it, but sometimes that's not the case. This is especially true when you have many devices on the network, particularly Wi-Fi devices.
Previous Page 1 2 3 4 5 Next Page