How to monitor, measure, and manage your broadband consumption
Dealing with a data cap? Tired of getting dinged for busting through it? Learn how to identify the hogs on your network and how to make sure your ISP is delivering everything you're paying for.
Your upload bandwidth also comes into play when you or others are remotely accessing devices or files on your network when you're away from home. It's hard to suggest a fixed number on that activity, though; just remember the faster the upload speed, the faster the file transfers and streams will be coming from your network.
Monitor your usage to identify bandwidth hogs
Whether you have a data cap or are having performance issues, consider tracking the bandwidth usage of all your devices to see who or what is hogging the most bandwidth.
You might consider using a Windows-based program like BitMeter OS (free and open-source) or NetWorx (also free), which are most useful if all or most of the Internet devices on the network are Windows PCs or laptops. These applications will track usage over time for the particular computer they're installed on, and offer up graphs and tables of data you can review. You can also set a data quota and be alerted when a device approaches or exceeds that limit.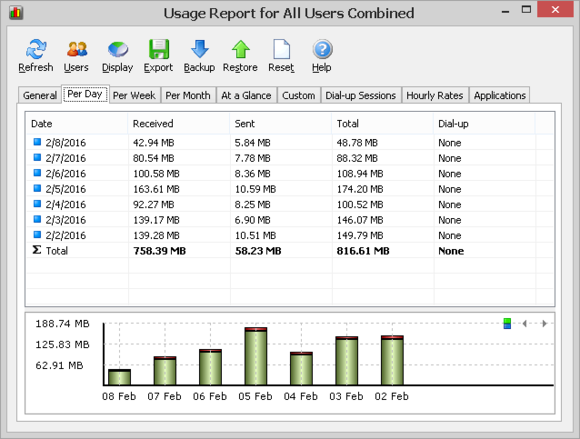 NetWorx provides detailed bandwidth reports, but only for the PCs on your network.
If you're using multiple types of devices on the network—smartphones, tablets, gaming consoles, and TVs, in addition to computers running Windows—it would be ideal to track the entire network's bandwidth from a single point, so you don't have to setup tracking on each device. Since the Internet traffic of each device needs to be monitored, it's not as easy as installing a simple program on a PC. The traffic must be monitored from the router or another device strategically placed between the Internet connection and the network clients.
Although most routers don't track bandwidth consumption by network device, consider checking yours just in case. If your router doesn't support it, consider buying another router or flashing a supported router with aftermarket firmware that does support it. If you decide to buy a new router, the enterprise-oriented Open Mesh routers and access points provide quite a bit of bandwidth usage details. Their hardware can be managed via a free online account. and it supports wireless mesh-networking technology that makes it easier to broaden your Wi-Fi coverage.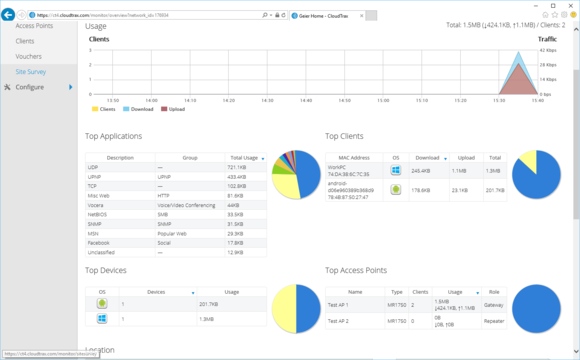 Open Mesh shows a graph of bandwidth usage of each client, top clients, top devices, top applications, and top APs on its Network Overview page. (Click to expand).
If you don't want to replace your router, flashing it with aftermarket firmware is a good option, provided your router has that capability.DD-WRT is one popular aftermarket firmware that supports many router brands and models; but by default, it shows only your total bandwidth usage. To find the usage per client or device, you'd also need to install an add-on like DDWRT-BWMON.
Previous Page 1 2 3 4 5 Next Page