How to monitor, measure, and manage your broadband consumption
Dealing with a data cap? Tired of getting dinged for busting through it? Learn how to identify the hogs on your network and how to make sure your ISP is delivering everything you're paying for.
Forget that bass; in the digital world, it's all about that bandwidth. You're paying your ISP for a given amount of bandwidth, but it's up to you to manage how it's consumed. Whether or not you have a data cap—and even if your data cap is high enough that you never bang into it—simply letting all the devices on your network engage in a battle for supremacy is a recipe for problems.
You could experience poor video streaming, choppy VoIP calls, or debilitating lag in your online gaming sessions. And if you do have a data cap (and yes, they are evil), blowing through it can hit you in the pocketbook, expose you to throttling (where your ISP drastically, if temporarily, reduces your connection speed), or both.
Those are the problems, here are the solutions: We'll show you how you can keep your ISP honest by measuring your Internet connection speed, so you can make sure you're getting what you're paying for; we'll help you identify any bandwidth hogs on your network, so you can manage their consumption; and we'll show you how you can tweak your router to deliver the best performance from everything on your home network.
Make sure you're getting what you paid for
Your home network will most certainly be faster than your Internet connection, but it's the speed of your Internet connection that will have the biggest impact on your media-streaming experience—at least when you're streaming media from services such as Netflix, Amazon Video, Spotify, Tidal, and the like. So the first step in your bandwidth audit should be to verify that your ISP is delivering the speed you're paying for (the vast majority of ISPs offer their services in tiers, charging more for higher speeds.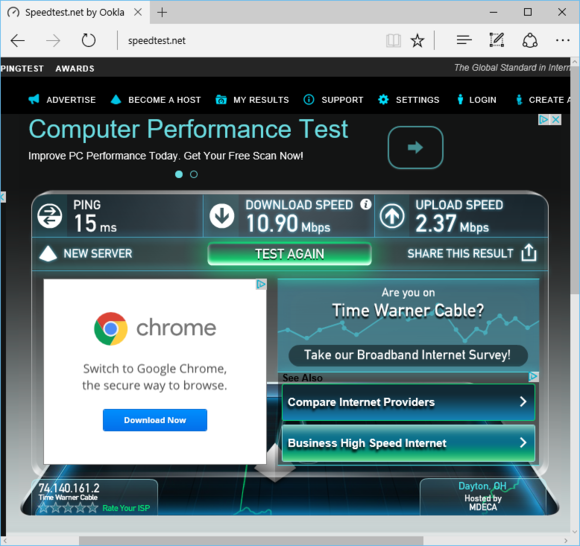 Results from Speedtest.net for my home connection.
The best way to do that is by visiting a third-party website such as Ookla's Speedtest.net or—if you don't like Flash—the HTML 5-based Speedof.me. To get accurate baseline speeds, check from a device that's connected directly to your broadband gateway (i.e., your DSL or cable modem, not your router), with all other wired and wireless devices disconnected. You might even want to test a couple of times at different hours of the day, since speeds can vary. Additionally, run some tests while other devices are using the Internet to see the differences.
Compare your baseline results to the speeds your ISP has committed to deliver with the plan you're paying for. If you're seeing significantly lower speeds, call your provider ask them to check your connection. They might be able to run some diagnostics at their end and offer some suggestions to fix the problem before they send out a tech.