How to change your Facebook ad preferences
Your online browsing habits impact the ads you see on Facebook. Here's the lowdown on advertising interest lists, interest-based advertising and your opt-out options.
To edit your list, hover over an interest and click the X to delete it from the list. You can't remove interests in bulk, so this might take some time depending on how detailed your list is. Alternatively, you can add preferences to your list by typing it into the field at the top.
How to adjust your ad preferences
Another way to address misguided ads is to correct them when they appear in your news feed. Hover over an ad and click the drop-down menu, where Facebook lists four options.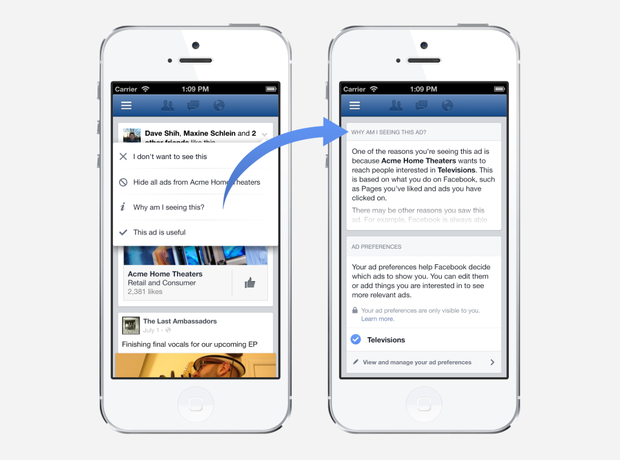 If the ad is irrelevant, choose "I don't want to see this," which removes the ad from your news feed. If the advertiser is irrelevant, choose the second option, "Hide all ads from [advertiser]." Click the third option, "Why am I seeing this?" for an explanation of why Facebook served you that particular ad.
Much like Your Ad Preferences page, these reasons vary: It's possible you liked a related page, clicked a related ad or your other online activity indicated it was relevant.
How to opt out of interest-based ads
Interest-based advertising uses your activity on websites and apps to help the social network learn which ads might interest you. If you don't want Facebook to use this information for the purpose of showing you ads, you can opt out in Your Ad Preferences page.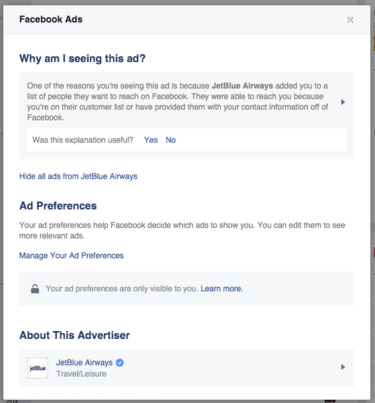 Click Edit next to the first option, "Ads based on my use of websites and apps." This option does not remove all ads from Facebook; instead, the ads you see may be less relevant.
Facebook is not alone in using interest-based advertising; it's a common practice among other websites, including Google and LinkedIn. Turning off this feature on Facebook prevents the social network from using your online habits to serve you ads, but does not impact the other participating companies. To turn this off for all websites, visit the Digital Advertising Alliance.
The Digital Advertising Alliance page will scan your browser and show you the participating companies; which companies have currently enabled customized ads for your browser; check whether you have already opted out from participating companies; and choose any or all companies to remove. Like opting out of Facebook's interest-based ads, this won't eliminate advertising.
Note that this tool removes interest-based ads on your current browser. If you use multiple browsers or other devices, you'll need to perform the same steps to remove interest-based ads from elsewhere, as well.