How to change your Facebook ad preferences
Your online browsing habits impact the ads you see on Facebook. Here's the lowdown on advertising interest lists, interest-based advertising and your opt-out options.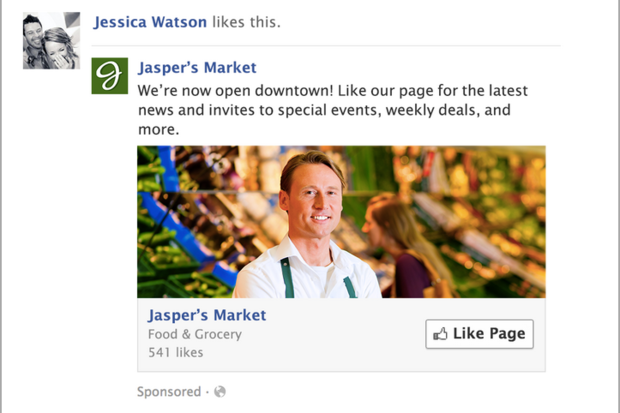 You've seen them before: irrelevant Facebook ads that pop up in your feed, leaving you scratching your head. Ever wonder where they come from?
Facebook determines which ads it serves you based on a number of factors, including the information you share with the social network, Pages you like or engage with, ads you click on, apps you use, websites you visit and information from its data providers and advertisers, it says.
That means if you're thinking about buying a new car and start to research your options online, Facebook might show you ads for new or used cars, or deals for remote car starters or car washes, based on that activity.
Of course, Facebook doesn't always get it right. Hidden in your advertisement settings is an option to review and edit the interest list that informs which ads you see, as well as a tool that explains why you were served a specific ad.
"When we ask people about our ads, one of the top things they tell us is that they want to see ads that are more relevant to their interests," the company said in a blog post announcing the features in June 2014.
Reviewing and editing your ad preferences — particularly during the holiday season — could be a worthwhile exercise, especially if holiday shopping has monopolized your online searches and skewed the ads Facebook shows you. Here's what you need to know about editing your ad preferences and opting out of interest-based advertising.
How to edit your advertising interests
To review the list of interests Facebook compiled about you based on your online activity on Facebook and other websites and apps, visit the Your Ad Preferences page. You can also find this page by visiting Settings > Ads, then click Edit next to "Ads based on my preferences" and select "Visit ad preferences."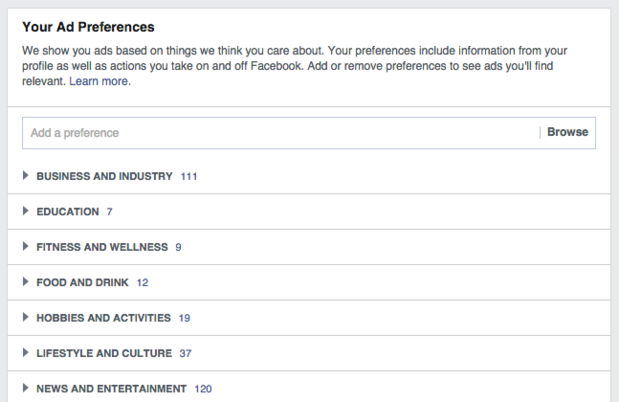 Your Ad Preferences page displays more than 10 categories, from food and drink to sports and outdoors. Click any of these categories to view the interests – some categories may have well more than 100 listed.
You might notice a mix of random and on-point interests. Under my "Hobbies and Activities" category, for example, the interests "moose," "dental floss" and "Winter dolphin" were inexplicably listed.
For an explanation about why it was included, hover over it. Apparently I had clicked ads or liked Pages related to those interests. (A Google search for "Winter dolphin" turned up links about a dolphin named Winter who had a prosthetic tail, which I vaguely remember watching a video about.) Other categories were far more accurate: The "Sports and Outdoors" category correctly listed the New England Patriots, Boston Red Sox and Syracuse basketball as my interests.