How Facebook, Apple and Twitter are ending online equality
The latest trend in social networking is the rise of elitism.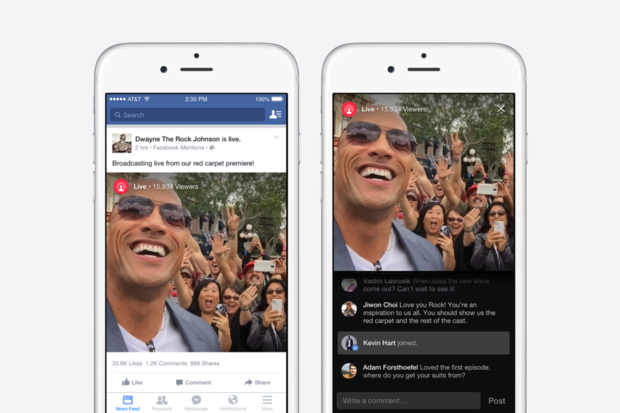 Actor Dwayne "The Rock" Johnson using the celebrities-only Live for Facebook Mentions. Credit: Facebook
The latest trend in social networking is the rise of elitism.
It's not an elitism that's emerging spontaneously from the everyday social interaction of users. Facebook, Apple and Twitter are intentionally devising a new online world of inequality. This new social media elitism is being trotted out as a "feature."
It's sad, too. Egalitarianism used to be the signature attribute of new media.
While old media was a one-to-many affair (whoever was rich or famous had access to the TV cameras or the newspaper headlines while the rest of us were forced to sit in silence and passively receive their communications), new media was participatory and engendered equality. Even the most self-aggrandizing actor or preening musical diva had to set up a Myspace or Twitter or Facebook account and use the same tools and features as everybody else.
Of course, we all haven't enjoyed complete equality in our reach or influence on social networks. Famous people have generally had larger audiences, and therefore more influence. But when the rich and/or famous have talked to us, we've been able to talk back. New media was different from old media in that it was a level playing field, where all of us -- rich and poor, famous and obscure -- used the same set of social media features, tools and interaction spaces.
Now Facebook, Apple and Twitter are intentionally undoing all of that.
Facebook last week joined the video-streaming parade by rolling out a feature called Live. Like Meerkat and Periscope, Live enables users to stream near-real-time video from their smartphones to anyone who wants to watch.
The difference is that full participation in Live is exclusive to famous people. Just like TV, anyone can watch. But only elites can broadcast.
The full name of this feature is "Live for Facebook Mentions." The Mentions service, which Facebook introduced about a year ago, is exclusively for celebrities. Mentions members get Facebook tools and features that aren't available to anyone else. Examples include ways to find out who's talking about them and the ability to launch Q&A sessions.
Facebook's introduction of old-media-style elitism into social networking isn't an isolated case. It's part of a larger trend.
Apple tried and failed with its iTunes Ping social network five years ago. Ping was a social network centered around music. It leveraged the iTunes user base to get buy-in. Apple wanted music stars to get on Ping. But, as was the case with all major social networks back then, everyone was invited.
Sadly for Apple, most declined. Users ignored it, so Apple killed it.