Hands on with YouTube Red: Is Google's ad-free media-streaming service worth the price of admission?
We spent the weekend with Google's new $10-per-month service and discovered that it's too early to answer that question.
That's what Google hopes, of course. This ad-free bliss, however, is limited to paid YouTube content, such as movie and TV rentals and purchases, and YouTube's gaming channel. But Google will soon offer more to hook you in. There's a YouTube Music app in the works (YouTube is the home to most of the world's music videos, so it's the right kind of vertical to launch), and YouTube is developing original programming, just like Amazon has done with its Prime service.
The original content looks to be quite the mashup of comedy, drama, and romance, but we'll need to actually see how it turns out to determine if the quality is there. This excites me less, especially since none of it's ready yet; but it does give me the feeling that there will be at least some extra value for my monthly fee.
A gateway to Google Play Music
As I mentioned earlier, a YouTube Red subscription includes the unlimited version of Google Play Music. Similar to Spotify, Apple Music, Tidal, and other services, this gives you a broad catalog of music for streaming and/or offline listening. You can also upload music that you own (up to 50,000 tracks) to an online music locker and play them through the Play Music site and its mobile app.
The 320Kbps streaming bit rate isn't audiophile quality—Tidal streams in lossless FLAC—but it's better than what some other streaming-music services offer. If you're concerned about going over your mobile data plan's cap, you can configure the app to stream at the highest bit rate only when you're on a Wi-Fi network.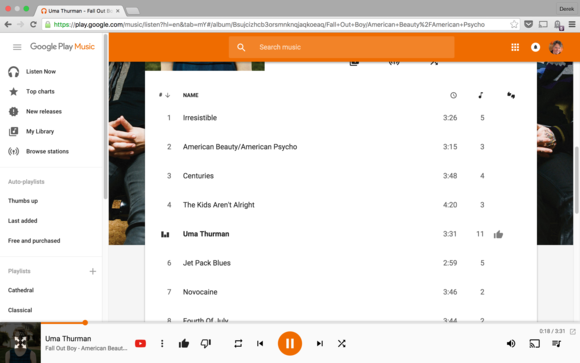 You can watch a song's accompanying YouTube music video inside of Google Play Music.
YouTube is subtly integrated with Google Play Music: If there's a video for the song you're listening to, you'll see the album art in both the mobile apps and browser-based player. Each artist page also has a collection of their YouTube videos.
If you're not all that into music videos it might be uninteresting, but I like the ability to discover a new song through one of Play Music's curated stations and then see what the artists can do on camera. It's a great add-on.
It's a compelling package, for some
From what I've seen so far, YouTube Red—combined with Google Play Music—is a compelling package. For $10 a month you get an excellent streaming-music service plus a supercharged YouTube experience.
If you're already a Play Music subscriber, you automatically get YouTube Red. And if you're one of the few early adopters who signed up for Play Music at launch (and stuck with it) you're still locked in at the $8-per-month rate. Now that is an absolute steal.