Hands on with Hangouts, Google's swipe at Facebook
Google revamped its social network, Google+, and launched its popular video chatting service, Hangouts, as an iOS, Android, and Web app.
Messaging services, unite!
Here's the thing about Hangouts: Once you start using a messaging service or social network or what-have-you, it's difficult to switch. You have to train your brain to not tap the FaceTime button in iOS or hop on Skype for a group chat session and instead use Hangouts. Even though my personal and work lives are heavily integrated with Gmail, a Hangout is not my first stop. I sometimes use a laptop at work, but I'm usually on a desktop that lacks a camera, so video chatting in the Hangouts app would be useless unless I'm working remotely or am mobile.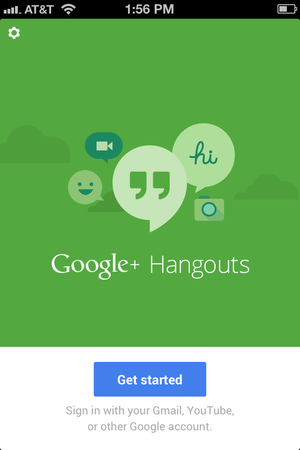 Use your Gmail log-in to get started with Hangouts.
Hangouts mainly seems like Google's attempts to unite its various messaging services under the Google+ umbrella, which is a good idea. Google had a myriad of messaging options under a variety of labels (Chat, Talk, Voice, and so forth).
The Google+ redesign and the Hangouts/messaging catch-up prove Google is serious about social. Though Google didn't mention Facebook once during the I/O keynote, the company is clearly taking aim at the world's largest social network. Facebook may have more than a billion users, but Google has Gmail, YouTube, and now, an improved Google+ complete with Hangouts. Game on.