Google gets proprietary about Hangouts, asks rivals to share
Google, one of the open source standbys, is getting some grief for locking down Google+ Hangouts. But the search giant points out that Microsoft isn't sharing, either.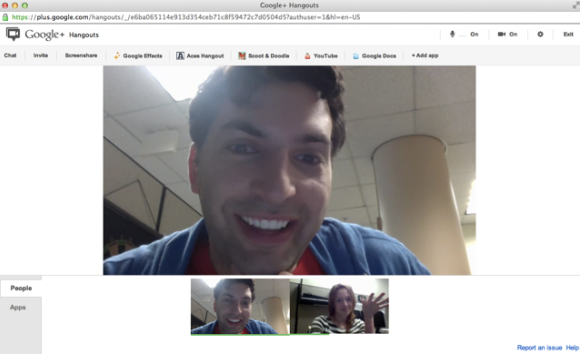 Once the bastion of open standards for the Web, Google is under heavy criticism for its decision to lock down Google+ Hangouts, its unified messaging service that is expected to replace Google Talk.
Unlike Talk, Hangouts is not based on open standards and cannot be integrated with multichat clients like Digsby or Adium. But if you ask Google, the company says it won't open up Hangouts until other major messaging systems, such as Microsoft's Skype, reciprocate.
Hangouts, once a Google+ feature that allowed you to carry on video chats with up to ten people, is now morphing into Google's unified messaging platform. It supports instant messaging conversations and chat SMS-style via your mobile devices, similar to BlackBerry Messenger and Whatsapp. The company says it plans to add true SMS integration as well as Google Voice features in the coming months.
A step in the wrong direction
Google's move away from open standards was recently criticized by the digital rights advocacy group Electronic Frontier Foundation as a "clear step backward for many users." The EFF took Google to task for moving away from XMPP, a widely used open protocol for instant messaging that Google helped to popularize with Talk. XMPP enables use of Talk not only through Google's chat clients, but third-party clients as well.
The EFF also isn't happy that Hangouts makes it impossible to use end-to-end encryption--called off-the-record messaging--with Google's new chat component. Google's Talk client doesn't support chat encryption, but XMPP does. This means that if you connect to Google Talk through a third-party chat client, such as Adium OTR, encryption is available. This is an important feature for people who need to keep their discussions secret from oppressive governments, corrupt corporations, or other interlopers. The EFF also claimed Hangouts makes it harder to disable chat archiving compared to Talk.
You first
Despite Google's previous commitment to open standards, Google now says it will open Hangouts to third parties only if its competitors open their chat protocols.
"[Hangouts] features are not supported by third-party clients because they aren't standardized," a Google spokesperson told TechHive/PCWorld. "We would not rule out working with third-party clients if we saw a strong desire to do so from other large messaging systems."
Google's lockdown comments follow a talk by CEO Larry Page touting the wonders of Google's openness specifically in reference to messaging protocols.
"We've really invested a lot into the open standards behind [the Web]," Page said recently during the Google I/O developer conference. "I think just this week Microsoft took advantage of that by interoperating with us, but not doing the reverse. Which is really sad, right...You need to actually have interoperation, not just people milking off one company for their own benefit."