Five ways Google can make the Chrome browser and Android work closer together
Living the Google life could be even smoother should Android and Chrome share more.
Google has quite the duopoly with Android and Chrome. The latter is the world's most popular mobile operating system, while Chrome dominates the charts when it comes to browser usage.
So it's long past time to make these two stalwarts play together a little more closely. Yes, we know that the Google Play Store is coming to Chromebooks, but there are still millions of people who either by choice or necessity do their desktop computing in Windows or OS X.
Android and Chrome complement each other in a few ways already. Your browsing history and active tabs can sync across devices. Chrome supports rich notifications for most of the Google and third-party services that you probably use across mobile and the desktop.
But there is still a lot more that Google could do to tie the two closer together, which would alleviate the need for third-party solutions. If there's a comparison to be found it's with Continuity, which is the way Apple engineers Macs and iPhones to connect so tightly. It's a powerful motivator to stick with Apple hardware, and should serve as a target for how Google could make the mobile and desktop experience an irresistible motivator to stick with the company's ecosystem.
Hello, Chrome. It's Android!
One of the most useful integrations that Mac and iPhone users have is with phone calls. You can leave your phone in one part of the house and not worry about missing a call if you're at your computer because the iPhone will ring your Mac. It creates even more opportunity to leave the phone on the desk.
What would be lovely is if Chrome could also pull this off. Certainly the capability is already there, as this is pretty much how Google Voice works when fused with Hangouts. But it's not exactly convenient to switch to a new number or even port it over to Google Voice, thereby canceling your mobile contract.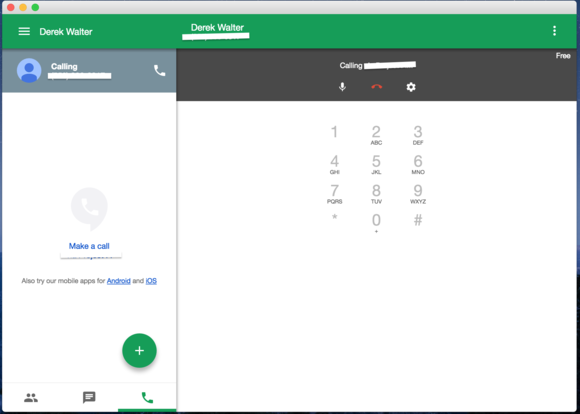 Hangouts can make and receive calls on the desktop when connected to Google Voice.
Of course there's Project Fi if you want to completely go all-in with Google for your wireless experience, but it's a very early experiment with no family plans, and it's limited to modern Nexus phones. That just won't work for most of us.
Essentially, why not bring the capabilities of Google Voice to all? Allow any Android phone to tap into Hangouts or another Google-powered app (hello, Allo and Duo!) to sync your messages and take phone calls. Of course there would be a lot of technical work to be done, and this might be one of those U.S.-only rollouts for a long while.