Facebook turns News Feed into 'personalized newspaper'
As expected on Thursday, Facebook announced a major overhaul to its News Feed that will now offer users customizable feeds that present specialized posts.
The look of feeds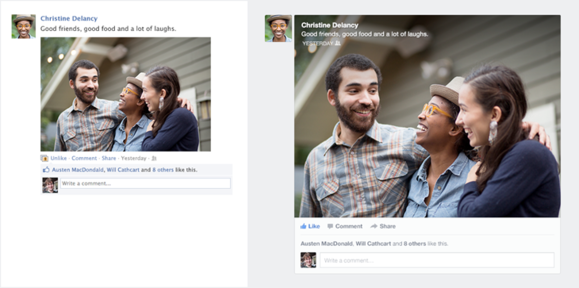 Zuckerberg said the new feed designs will be optimized for the mobile experience, and highly visual. "Almost 50 percent of the content in the average newsfeed is photos and other visual content," he added.
For instance, links to articles will include a larger thumbnail image, a longer summary, and the logo of the news source featured prominently. Location check-ins will include a map and more information about that particular place.
Facebook stresses that it wants the experience of using its site to be consistent, whether you're there on a phone, tablet, or PC. The same design and navigation tricks are being used for all versions of the site--mobile or not. Even little cosmetic things like colors and fonts will be the same across all user device types, Facebook says.
Facebook has tried offering specialized feed options at the top of its home page before, eventually abandoning those efforts for the most part. So why return to the theme now? Facebook says the reason is that more rich media content like photos have become a part of its social networking site, increasing the need to sort and organize all of that content.
The new designs start rolling out Thursday; they'll show up on all devices within the next few weeks.
Updated at 11:25 a.m. PT with more information throughout the story.