Facebook turned your lock screen into the new Twitter
Facebook's new app uses notifications on your lock screen as a 'newspaper.' And so the war over lock screen real estate begins.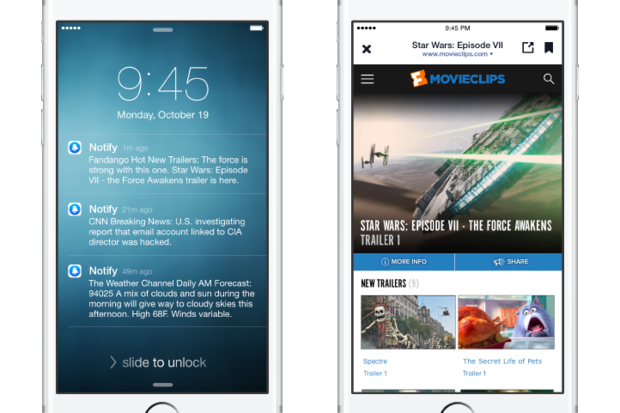 Facebook's Notify app uses your iPhone lock screen as a news medium. Credit: Facebook
Facebook last week launched a news app called Notify. I know. Boring, right? Another news app. But there is a reason behind Facebook's seemingly innocuous decision.
At first glance, Notify is pretty standard. Notify launched with 70 publisher partners covering a wide variety of interests, and you can choose which publications to get notifications for.
What's different about Notify is that its medium is the iOS lock screen. (The app is for U.S. iOS users only for now.) When you tap on the notification, you're taken to the Notify app, where a content creator's mobile page is displayed. In other words, the app is basically a browser that throws notifications up when a new story comes in.
Some of the content sources provide news stories. But others give you updates on things like sports scores, weather reports, stock prices and flight deals.
Ultimately, however, access to the full story is mostly a just-in-case proposition. Most users will undoubtedly get only the notification for most stories.
And therein lies what I believe is the true competitive situation and why the war over lock screens has begun. Facebook is probably aware that the Facebook News Feed is not a great source of breaking stories and other news, at least not as good as Twitter. Facebook is aware that many Twitter users interact with the site on a mobile app. So before users can even unlock their phones to check Twitter, Facebook wants to be on that lock screen with a Twitter-like rundown on what's new. Like Twitter, Notify lets you "retweet" notifications from the iOS lock screen. By swiping to the left over a notification, you get the option to "re-share," and are presented with a wide range of media on which to do that re-sharing. These include Twitter, Facebook and others.
Notify sounds like a new strategy for Facebook. But in fact, it's perfectly in line with Facebook's thinking in recent years.
Remember Facebook Home? Back in April 2013, HTC and Samsung released the first Facebook Home devices, which used Facebook's custom user interface as the first screen you would see when you turned on the phone. It enabled Facebook friends to remain on screen in a little circle, and provided instant access to notifications, the camera app and other features. Facebook Home flopped, and it was withdrawn from the market. But it's clear that Facebook has wanted for years to be the first thing you see when you light up your smartphone.
Facebook Notify is also in line with Facebook's grand design of maximizing valuable smartphone "shelf space." Instead of adding features to the main Facebook app, Facebook has recently been pursuing a strategy of rolling out new features as separate apps. That's why the company made its Messenger feature a stand-alone app, allowing people to use it to send messages to anyone with a Facebook account -- even if they're not Facebook friends.