Eyes on Apple Music's accessibility issues
Apple Music rocks—but it's also hard on the eyes of the visually impaired, explains Steven Aquino.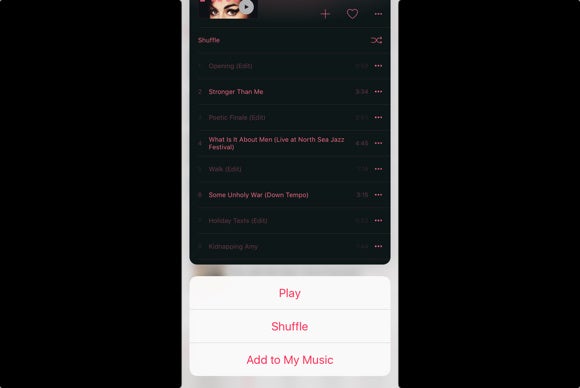 Peek & Pop and the 3D Touch Quick Actions make Apple Music a lot easier to use on an iPhone 6s or 6s Plus.
This concept also applies to Peek & Pop in Apple Music. I love how I can force-press on a playlist or album and get a peek at its contents. Then I can press a little harder to pop into that full screen if it interests me. Like with the Quick Action, Peek & Pop saves my eyes and finger from extra work, and both really speak to the usefulness of the 3D Touch gesture.
Secondly, I very much enjoy Apple Music on my iPad Air. Most of this is due to the sheer size of the iPad's screen, but I also prefer the interface on the larger canvas. Album art is bigger, playlists are bigger, and even the editors' notes are (somewhat) more readable on the 9.7-inch screen.
While Apple Music is an imperfect product, I'm sticking with it. None of its accessibility problems has been enough to keep me from using the app, and I enjoy the service as a whole. I still hope Apple might address the issues I raise here, but in the meantime, I will happily continue as an Apple Music user, warts and all.
Previous Page 1 2 3