Eyes on Apple Music's accessibility issues
Apple Music rocks—but it's also hard on the eyes of the visually impaired, explains Steven Aquino.
We've all seen Apple Music take a beating on Twitter now and then, but I actually like it a lot.
Prior to jumping on the Apple Music bandwagon, I was a happy Rdio subscriber of a few years. Rdio had many great qualities, like a beautiful design and a focus on albums, which I prefer. It wasn't the most visually accessible app, but Rdio got me to fall in love with the "all-you-can-eat" model of streaming services after years of buying albums a la carte.
My allegiance to Rdio came to a swift end the moment Apple flipped the switch on Apple Music at the end of June. I cancelled my Rdio subscription (apparently I wasn't alone—the service eventually went belly-up) to go all-in on Apple Music, and I haven't looked back.
In my experience, Apple Music gives me much of what I appreciated about Rdio, just with a much bigger catalog, plus little extras like Beats 1 and the For You section. Unfortunately, Apple Music is also similar to Rdio in that it isn't the most visually accessible app.
At times I find Apple Music difficult to navigate, due to the cluttered interface and small labels and controls. While none of these issues is severe enough to be a deal breaker, as a group they hamer the experience and are worth examining from an accessibility point of view.
All that can fit in one app
The biggest problem I have using Apple Music is getting around. Apple decided to integrate Apple Music into iOS's Music app, but I'm not convinced that was the best approach. There's just so much going on in Apple Music—buttons everywhere!—that it makes it hard for me to find things. My eyes are constantly moving (and straining) to find a button or option.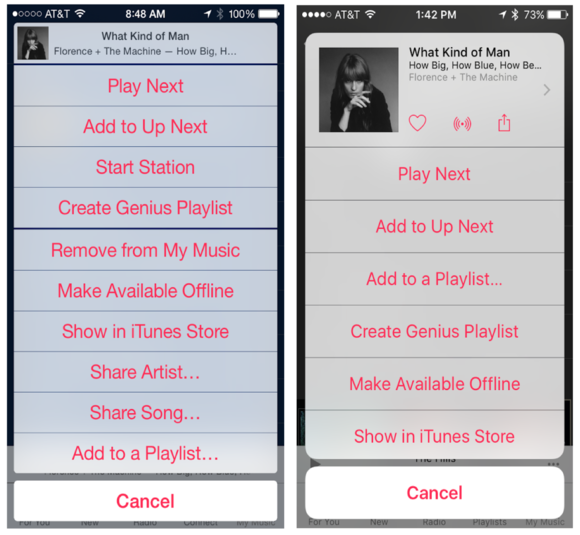 Apple Music launched on iOS 8.4 (left), which was very cluttered. The interface got cleaned up in iOS 9 (right), but it's still hard for me to read, especially those tiny tappable targets up top.
From an accessibility perspective, this is troublesome for people like myself who suffer from low vision. The more content an app puts onscreen, the harder it becomes to focus my eyes on what I want. Constantly moving my eyes to find what I'm looking for is tiring, and ultimately worsens the experience. Apple Music's UI is chock-full of buttons, drop-down menus, and buttons that look like words—it has so much going on, it's visually overwhelming.
I'm not a UI designer, but one potential fix could be to make Apple Music a standalone app. I think a big part of my problem in getting around is that Apple effectively bolted the streaming service onto the legacy music stuff. There's no clear indication that this here is streaming and that over there is purchased, for instance. It's a mash of old and new, and I increasingly feel that Apple should've made a clean break by giving Apple Music its own standalone app, even if it coexists alongside the mashup app that shows everything at once.