EFF's new Privacy Badger browser add-on closes the prying eyes of online trackers
The EFF is working on a new weapon in the fight against online tracking: Privacy Badger.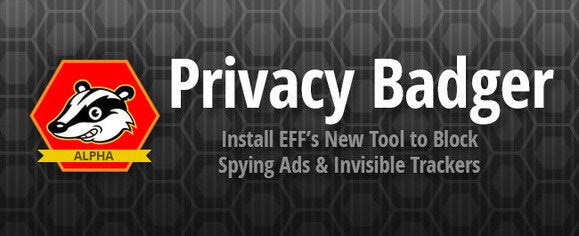 When it comes to stopping online tracking cookies, Privacy Badger don't give a flip what the advertisers say. The Electronic Frontier Foundation just unveiled a new tool to help privacy-conscious users enforce their do-not-track wishes on uncooperative websites and third-party advertising companies.
On Wednesday, the online rights groups released an alpha build of Privacy Badger, an add-on for Chrome and Firefox built to destroy third-party cookies and other trackers. Privacy Badger automatically detects and blocks third-party trackers that follow you across the web collecting data about your browsing habits.
But don't think of Privacy Badger as an ad blocker in the vein of AdBlock Plus. Instead, the EFF add-on is built to only stop third-party tracking that happens across the web. So if an ad pops up without tracking cookies enabled, you'll see it. Lucky for you, privacy loving user, most ads are loaded with trackers.
Browsing with the badger
Once you've got Privacy Badger installed, all you have to do is start browsing the web as you normally would. But if you're interested in seeing what Privacy Badger is up to just click on the badger icon in your browser's address bar.
When you first start browsing, all third-party domains that are detected on a website are displayed with a green slider in the Privacy Badger drop-down menu. Green means the add-on has detected third-party domains, but they haven't done anything objectionable yet.
As you start browsing across multiple sites, however, those green sliders quickly turn yellow and red. Red means Privacy Badger is explicitly blocking trackers. A yellow slider means a third-party tracker is being allowed, because it appears to be necessary for the site to function properly. At the same time, however, Privacy Badger will try to screen out any tracking cookies from yellow-coded third parties. That way you get online privacy without the hassle of handicapped site functionality.
These sliders are completely user configurable too. So if you'd like to allow some trackers and disallow others, just move the slider within Privacy Badger to where you'd like it.
Advertisers may not like the idea of Privacy Badger, but the EFF says any advertisers that commit to respecting do not track requests will get unblocked by the add-on--the idea being that if enough people start using Privacy Badger users can compel advertisers and other online tracking companies to improve online privacy for everyone.
Alpha Badger
The EFF says Privacy Badger is not yet ready for official release and should only be used by brave alpha testers willing to endure a few bumps and bugs along the way. Anyone who finds a problem can file a bug report for Chrome or Firefox on Github.